4 Things You Are Doing Wrong In Your Career Search
By Nisha Srinidhi   •   6 min read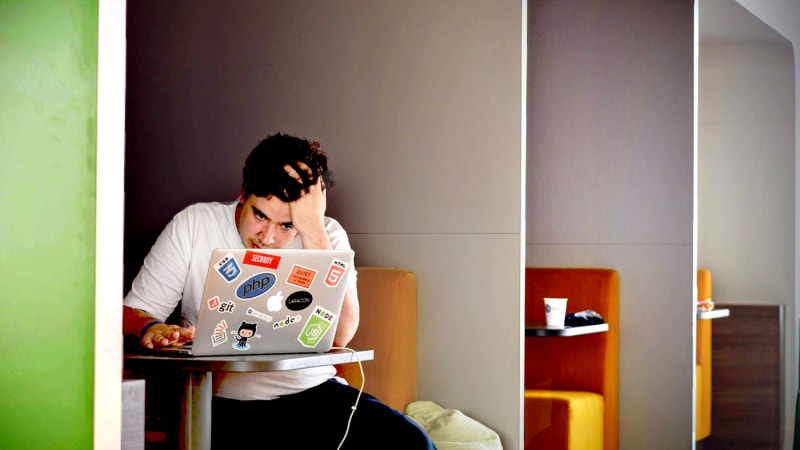 Graduation is approaching and you still haven't found a job. You've been filling out job app after job app but to no avail. You're starting to dread the repetitiveness and wonder if you will ever find the right job.
But maybe it's not you or your skills. Maybe it's the way you're looking for that job. Here are 4 things you could be doing wrong in your career search, and how you can fix them.
Mistake #1: Not Fully Understanding What You Want
As a college student with little work experience, it's common not to be sure of what you want to do. And in desperation, you might think it's worth applying for every job out there just to 'try your luck'. But honestly, there's no point in doing that.
The biggest mistake you can fix in your career search is having a generic application that has a generic resume and cover letter. Fixing that starts with knowing what interests you, aligns with your passion and requires your skills. Say goodbye to ineffective applications and say hello to being able to address a company's business problems and your ability to solve them.
How do you go about understanding yourself? Three ways:
1. Assess yourself with professional career quizzes
The Myers-Briggs Type Indicator Test, Gallup Strengths Finder Test and Career Anchor Test are amongst the numerous personality tests out there that could help you understand yourself and better identify a suitable career.
2. Ask others to describe you
Get feedback from people in different contexts (e.g. friends, seniors, project group mates, professors, supervisors from internships, CCA members etc.) to discover more facets of yourself.
In order for the feedback to be relevant, ensure that it is:
Timely: Ask for feedback as soon as possible after an event
Specific: Ask for feedback that is comprehensive & precise
Objective: Ask for feedback that is not based on judgement, but based on observable actions and impact
3. Get experience to see what resonates with you
You could plan your experiences according to what you want to find out. For example, if you want to understand which industry you'd like to work in, or which function you'd like to work under, or even just discover the organisation size that you would thrive in, you could do the following things:
The best thing about getting to know yourself better is that you can't fail. Whatever you discover is going to be useful in some way or another – even if you find out you hate something, at least you know what you DON'T want to do.
Mistake #2: Solely Relying On Job Postings By Your School's Career Counsellor
Here's the truth. Job postings highlighted by your career office are beneficial in helping you identify many potential employers. BUT the career counsellors are going to have a dozen more job opportunities that they know about but do not broadcast to the entire student population.
While you're patiently waiting for that email regarding new job offers, some of your batchmates are already knocking on the career counsellor's door or using other platforms to snag these opportunities. So get in early and seize the opportunity!
Mistake #3: Having The Mindset That 'Networking Isn't For Students'
It's easy to dismiss networking events. We get it – you're busy with exams, projects, club meetings, and every other aspect of your college life.
But guess what? 85% of jobs are filled through networking. It's extremely important to build a strong network while in school, but most students realise that too late.
Here are some tips on how you can build a network as a student:
Nail the answer to "What do you do?" – whenever someone asks you this question, answer it as though the question is "How can you contribute or help me?"
Attend events on campus – join societies and get involved in different communities
Keep in touch with professors and update them on your progress and where you are – professors can help you make great contacts in the outside world
Get back in touch with old contacts to learn what they are doing now – you never know how someone from your past can help your future
Try out as many internships as possible – not just in summer, but also part-time internships if you can cope
Create a LinkedIn account and write personalised LinkedIn connection requests so that you can start conversations with people who could potentially help you e.g. recent graduates from your school working in sectors you're interested in
Mistake #4: Not Leveraging On Social Media
Utilising social media like Facebook, Twitter or LinkedIn in the right way can lead you to numerous opportunities. Here's what you can do on each platform. 
Facebook:
Reach out to your friends and connect for coffee chats
'Like' company career pages/groups and participate in discussions
Establish your presence by commenting on their posts
Facebook can make a person come across as more genuine and approachable. But make sure you refine your language, highlight content that's more career-focused, and connect with people outside your immediate circle of friends!
Twitter:
Search accounts for companies you are interested in working for
Search for and follow people who work in those companies
Keep an eye out for Twitter chats and online events hosted by employers
LinkedIn:
If you don't already have a profile, sign up now and ensure that your profile is 100% complete
Check for mutual connections with employees of your shortlisted companies and ask for an introduction; ask if they'd be open to an informational interview, or to answer a few questions over email
Join and participate in relevant LinkedIn communities (interactive communication between employers and people interested in working for these companies)
Many recruiters use these platforms to reach out to potential talent. Being active in the community discussions can help you get noticed. Ballsy as it may seem, it's well worth the effort.
Caution: While utilising social media for professional purposes, be sure to familiarise yourself with all the privacy settings. Know what your potential employers can see and review all your posts to ensure they're clean. Google your name as well, to check that there's nothing that may reflect badly on you.
Fix some of these things and I'm sure your career search would yield much better results!
---
---
RECOMMENDED FOR YOU