6 Revealing Questions Every Student Should Ask Recruiters At Career Talks, But Don't
By Sharon Yeo   •   4 min read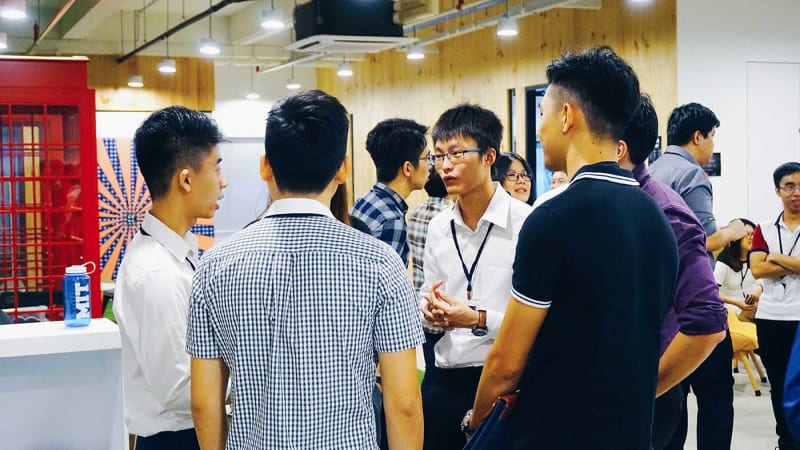 Do career talks and job fairs waste your time?
Chances are, you're not asking recruiters the right questions. And that could have cost you a potential internship or full-time position.
Don't bother asking questions you can find answers to online. Or questions that invoke standard answers. (Believe me, this happens more often than we realise – think: What positions are you hiring for? How many rounds of interviews are there?)
Here's a list of questions that will reveal more about the company than you'll usually get and make the most of these in-person interaction opportunities. Are you focused on leaving an impression on the recruiters? Figuring out what it's really like to work here? Or how you can perform better in the recruitment process? Smart and thoughtful questions can go a long way to helping you do all that, and more.
1. What's the biggest challenge in finding a suitable candidate for this position?
This tells you where most candidates fail and areas you could potentially focus on to set yourself apart from the rest.
The answer to this question typically falls into two large categories: (1) Lack of the right skillsets; or (2) Lack of culture fit. This could also hint towards which of the two the company prioritises slightly more, and which is critical for success in the organisation.
2. How many years does the typical employee stay with the company?
What you really want to find out is how the turnover rate looks. But asking about turnover directly often causes recruiters to get defensive.  
If turnover is high, find out more about the main reasons why people leave the company. This question surfaces potential red flags of the culture or environment that you may not find yourself a good fit with. It's important to note that high turnover isn't always bad. Companies who are expanding rapidly into new areas or have a pyramid structure (with a large base of junior employees) may commonly have high turnover rates.
3. What percentage of time is typically devoted to each of the responsibilities of this position?
Get a concrete picture of what your day or week might look like. Figuring this out also helps you avoid being misled by employers who tend to upsell more "exciting" aspects of the job, although those may only happen during a small minority of the time.
4. Why do people come to work for you rather than a competitor, and why do you think they stay?
If there is an industry you're interested in, the next step is to figure out the dynamics of each company. While the recruiter's answer may still be packaged to a certain extent, the focus isn't just on how this company is different (or better) than the rest.
Tap on the recruiter's deep knowledge about their competitors to find out what each company is like and nuggets of information that the other company's recruiter may not share with you.
5. What Do You Like Most About This Company?
One look and you know this question has a "pre-prepared" answer to it. But the key isn't just the content. It's the delivery. If the recruiter's answer excites you, that's definitely a good sign. If the response is lukewarm, that's not just a warning sign but a signal to probe deeper.
And one more thing. This question also helps you get warmed up with the recruiter (because most people enjoy talking about themselves).
6. What's the one thing that most surprised you about this company when you joined?
We all have preconceived notions about different companies. The scary part? We don't know if they are true or not. We might rob ourselves of a company that could potentially be a great fit, but we closed ourselves off to the idea too early because of misconceptions that aren't true.
Understanding what took the recruiter by surprise may reveal some of our own misunderstandings about the company.
––––––––––––––––––––––––––
About TalentTribe
TalentTribe brings you an inside look of different companies and careers in Singapore.
Discover companies you can work at, like Sephora, Singtel, Shopee, Changi Airport Group, Night Owl Cinematics, TheSmartLocal and Flow Traders. See their office spaces, hear employees share about the company culture, and what their day-to-day work scope looks like. Apply for jobs that these companies in Singapore are hiring for. 
Update: 1 February 2019
Love reading about what it's like to work in different companies on our website? Great news. We're putting together a job portal for undergraduates, fresh graduates, & those of you who've just started your careers. Lots of exciting features lined up to help you navigate the uncertainties & anxieties of discovering your first few jobs that suit you.
Launching Mar 2019 in Singapore. Join the waitlist to be one of the first jobseekers in Singapore to check out the new portal.
---
---
RECOMMENDED FOR YOU