6 Ways On How You Can Outdo Your Co-workers, Without Burning Bridges
By Seow San   •   3 min read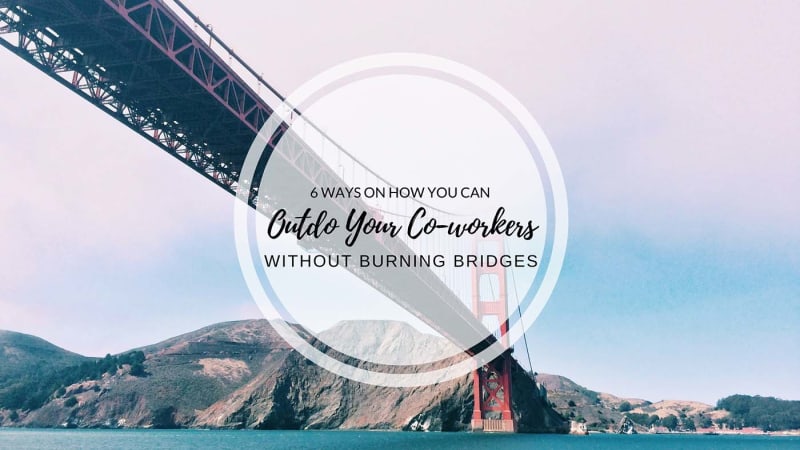 The working world can be a cut-throat environment. In order to perform better than your co-workers, you have to outmanoeuvre them by coming up with devious plans. …Or do you not have to? Becoming the ace employee that your company needs does not have to come at the expense of your relationships. Here's how you can gain the respect of everyone in your company – without coming across as a complete jerk:
1. Try Your Best, But Don't Come Across as an Annoying Try-Hard
Understand the fine balance between being enthusiastic and over-zealous. Quipping in a well-timed suggestion, is respect worthy. Fighting to get your voice heard every time (even when you have nothing solid to contribute), is just noise. Consider your responses before suggesting them. Is this a noteworthy point, or just an echo of what has been discussed? Always come to meetings well-prepared. When everyone's having a mental block, throw out some ideas you've prepared. Work to improve on them based on the feedbacks given by your co-workers. Don't forget, your co-workers are smart people themselves. Trust us. They know when a person is truly committed to work.
2. Assess Your Co-workers Without Them Knowing
No, we're not asking you to be judgmental. Observe your co-workers' strengths and weaknesses during discussion. Make mental notes on what they are good at and what they are weak at. Here's why you should do so: Knowing your coworkers inside out will enable you to harness their strengths and tap onto their full potential, when putting your team together for a common project. The team will be able to get things done real quick – and certainly, you will be able to produce high-quality work.
3. Be the Limelight (without being an eyesore)
Voice your opinions about different issues that are brought up by your boss or colleagues, be it work-related or personal. Give them your listening ear. Whether it's constructive advice or an unpolished idea , your idea may spark inspiration to their solutions. Everyone is always on the look-out for people who can add value to their life. Try to understand their situations and give your genuine feedback on what they should do. Who knows, your ideas may even be able to help your boss and co-workers improve their life at work!
4. The Secret to Success: Your Notepad
Here's the biggest pet peeve that most bosses tell us: They hate to repeat themselves. Always bring your notepad along. Take down notes on tasks you're assigned, or key points of what your bosses have shared. It sends a signal that you are always paying attention and keen to learn. By jotting down what you boss said, they are also assured that things will be done.
5. Levelling Up Your Skills during Your Free Time
Don't wait for the company to provide you with the training you need. Find yourself struggling with the technical aspects of your assigned work? Seek out online courses and learn the ropes yourself. Check Udemy out.

From advanced Excel techniques, to SEO and creating beautiful presentation decks.

There are many online courses you can take up, both paid and unpaid. Instead of procrastinating, use this opportunity to arm yourself with skills you need in your professional career.
6. Remember, It's Just a Job
Take a chill pill – remember, you are not at war. Instead of trying to "kill and outdo" your colleagues, why not create a conducive environment and working culture for everyone else? Besides, it's always great to have more friends than enemies.
---
---
RECOMMENDED FOR YOU