Here's What to Do if Your Job Differs From Your Expectations
By Seow San   •   4 min read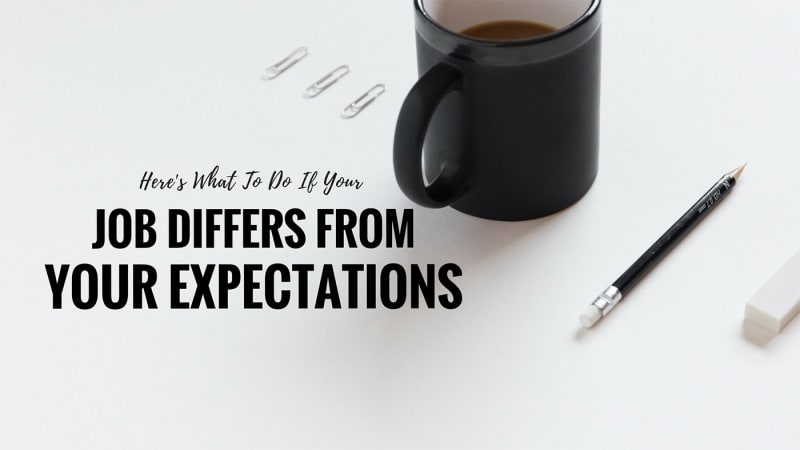 At times, we're promised one thing in our job descriptions. But on the first day, you realise to your dismay that the work you're assigned is nothing like what was promised. "What went wrong?" "Am I going to do that for the rest of my career?" And this might affect your motivation to go to work everyday. So here are some constructive things that you can do in this situation – aside from going on a downward spiral of destruction that will make you hate your career.
1. Have a One-On-One Chat with Your Boss
For starters, figure out what went wrong. Hit your boss up at the pantry or over lunch and talk to him how you feel about your new job. But don't be too quick to tell him your dissatisfaction! Clarify your job scope with your boss. You can always remind him/her about your interests. But don't just stop there – take a step forward by consulting him on the skills you can work on now till the day he hands you with the "real work".
2. Leverage on Your Colleagues' Experience
If your boss is too intimidating, have a chat with some of your friendly colleagues. Ask if they experienced the same situation when they first started, or if your case is an anomaly. Get their advice on the next steps you should take, to survive this work scope discrepancy. More often than not, there are many others who are "on the same boat" as you are. Rather than fretting about your situation alone, a simple chat with your colleagues may earn you tips that you might not have considered.
3. Rethink if Your Original Expectations were Realistic
The strawberry generation. The avocado generation. Our generation has had our fair share of being called fruit names and stereotyped as too "starry-eyed". But maybe, just maybe, we may have been brought up or educated in a way to expect more than what's realistic. And hating on life for the dreariness of work. After you've clarified the miscommunication, you may realise that you'd be stuck with your current job scope for at least a month or so. It's normal. It often takes months, if not a year, to truly figure out how things work within a company. Until then, you probably wouldn't be the best person to handle the strategic work that you're hoping for. Set aside the goals you've set before. Now that you know your temporary job scope, set new goals. Setting new expectations gives you the motivation to go to work. This is also a constructive way to help you learn the ropes faster, and hustle your way out of the "newbie work pithole. Write down milestones you want to achieve and how you can do that. Keep track of your progress and make improvements in the areas you are weak in.
4. Milk Those Skill Sets While You Can
Whether you're assigned a completely different role (think: marketing executive learning VBA in Excel) or tasks that drill your basics, absorb as many skills as possible from your job. These skills might just come in handy for the future work that you do. Record what you've learned at work on your journal or type it in your smartphone. Present these skills on your resume and talk about it in your next job interview. Recruiters will be more than happy to hear about how you can use these skills to improve their companies.
5. Do Something You Love While You are Not Working
We all know that doing something that we don't like is mentally draining. And working on tasks you're not passionate about for months could leave you considering a career switch. Fight the negative energy. Pick up a side hustle, and do work that you're passionate about when you're not working. Peek into your co-workers' desk and see what they are doing. If it's something that interests you, sit beside them and ask them questions. Watching videos that are related to your career (so that your boss won't think that you are slacking) also helps!
6. Be Thankful
Do you know that at least 17,000 Singaporeans are unemployed? So instead of considering your exit options the moment things don't go your way… suck it up and be grateful that you even have a job. Remain in your job for a few more months, and you may just discover that things are getting better.
---
---
RECOMMENDED FOR YOU