How to Convince Your Boss That You're Ready For a Promotion
By Kevin J. Tumanken   •   6 min read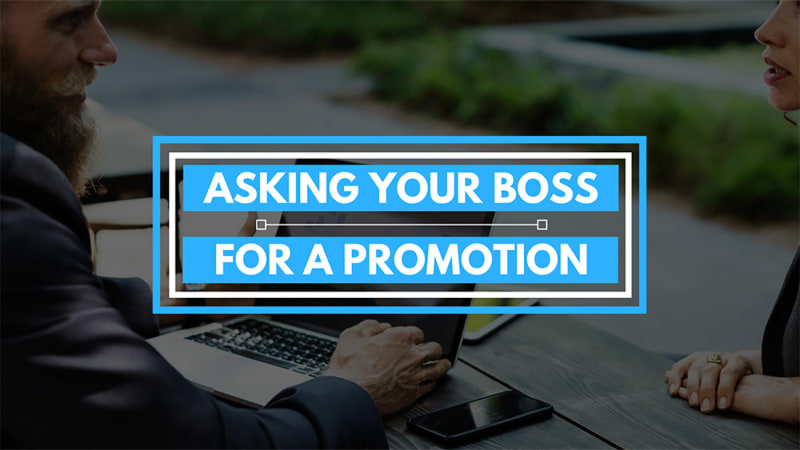 It is the performance review season.

You've been part of your workplace for a while. Perhaps, you feel that you've been doing well, but there have been no signs of a promotion coming up. Maybe it is something you are currently not doing at work that is holding you back.

Here are a few tips to work your way towards the well-deserved rise up the corporate ladder, and convince your boss that you're ready for a promotion:
1. Deliver quality results to your boss
Let's face it, bosses hire employees to deliver results. It's cold, but necessary for a company to survive. You might be missing a promotion because your boss feels that you haven't been exceeding expectations – well now's the time.

Figure out what your boss has in mind and set your goals beyond them. Arrange a coffee chat with your boss to have a candid discussion about your performance so far. Get feedback on what you've been doing well and what you need to improve on. This ensures that you're both aligned on what you need to do, to be the star employee your boss needs.

You can also improve your productivity by removing distractions in your environment. Download apps that help you keep track of your progress. Spend time figuring out the most efficient way to get the job done. Do all this with the intention of becoming an indispensable asset to your boss.
2. Wear your accomplishments like a badge
Being an asset to the boss isn't going to guarantee a promotion. You need to build recognition among your fellow colleagues. A simple way of doing this is by making your accomplishments salient. People often forget to speak up for their accomplishments, allowing their colleagues to take on positions they should have gotten instead. Don't ever let them take your promotion from you.

Be vocal about your accomplishments. Drop the occasional nod to your roles in key projects. If subtlety is what you prefer, then find something tangible like a competition trophy, or picture with a VIP and have them displayed on your desk. You could also update your LinkedIn status more actively, to show your networks what you've been busy with.

You may not realise it. But being more vocal about your achievements (without coming across as a braggart) shapes the impressions your co-workers and bosses have of you. It helps them build confidence in your abilities, and know that they are able to count on you, when you are placed in strategic and crucial leadership positions.
3. Step away from your desk and start networking with your colleagues
Stop being another face in the office. Too often bosses end up promoting idiot co-workers simply because they're more vocal and (unfortunately) leave a stronger impression. It's a flaw of our human nature to be easily swayed by performances than actual results.

Start small-talking. Attend company drinks or get-togethers occasionally, even if it is out of your comfort zone. Build your own network within the office, and get to know your co-workers and bosses on a personal level if you can. If you're lost for words, be a great listener. Everyone likes a person they can confide in at the workplace.

Essentially, you may start to realise that delivering results isn't enough. Push yourself to become more present in your workplace. Don't let yourself be dismissed as just "another member of the team".
4. Be the resident problem solver
Admit it, even though you hate them, you kind of admire the resident smart-ass who's always ready with answer for anyone's problems. Bosses love them a lot! They'll probably even want to keep these people close because they know they can rely on them when a business challenge arises. These are the people who'll eventually get the promotion to become the boss's right-hand man or woman.

It's time to be that person. Make the effort to learn more about the problems faced by your fellow colleagues. Take the time to figure out the answers to their problems. Be the person they always look for to solve their issues. You'll know you've succeeded when you begin to hear people throwing your name out whenever there is a problem to be discussed.
5. Remember the 6 P's: Proper Planning Prevents Piss-Poor Performance
A common mistake people make in the pursuit of a promotion is to neglect preparation for their future responsibilities. You don't want to be caught in a situation where you're completely lost amidst the steep learning curve of your new responsibility, and failing on the task. Not only will it taint your boss's trust in you, but it will also affect your chances of a quicker promotion in the future.

Take a proactive approach to these new responsibilities. Get an idea of the tasks you might be doing and find anyone with experience. Ask open-ended questions to help figure out what you don't know. Get to know some common pitfalls that others have encountered in their first week of handling the new tasks. If you're feeling bold, you can try asking a colleague who's currently undertaking the task to give you a shot at it.
6. The power of endorsements
Your boss might depend on the opinion of your co-workers when planning the team's work delegations for the next quarter. Unless you're a mind-reader, what your colleagues say about your abilities are pretty much beyond your control – or aren't they?

What you must do now is to find people who will recommend your abilities to the boss during the next promotion cycle. Let your colleagues know what you're aiming for and make yourself known for being a master of a specific skill.

Be so good at the skill that you're at the front of everyone's mind when it comes to solving a problem that requires it. If you're aiming for a design role, people should remember you as the "Photoshop guy". If you're aiming for a web development role, you should be the company's "Java/HTML god".
7. Ask
If you've been able to achieve all of the above, you're well on your way to your desired promotion.

All that's left is to take the direct approach and talk to your boss about the promotion. Set a meeting at work, or during lunch hours. Speak your mind. Let them know what you've been up to, and communicate your desire for a promotion. Ask them if they find you deserving of such a promotion – or what else you would need to improve on.

Maybe your boss won't promote you within the next few months, but at least your boss will be aware of your intentions to move up. Having open communications about how you feel in your current position will give your boss ample time to plan for your promotion in the near future. Till then, be patient and be gracious about it.

All the best!
---
---
RECOMMENDED FOR YOU