LinkedIn Is Making All Its Courses Free For a Week (And Here's What This Means For You)
By Stephenie Pang   •   9 min read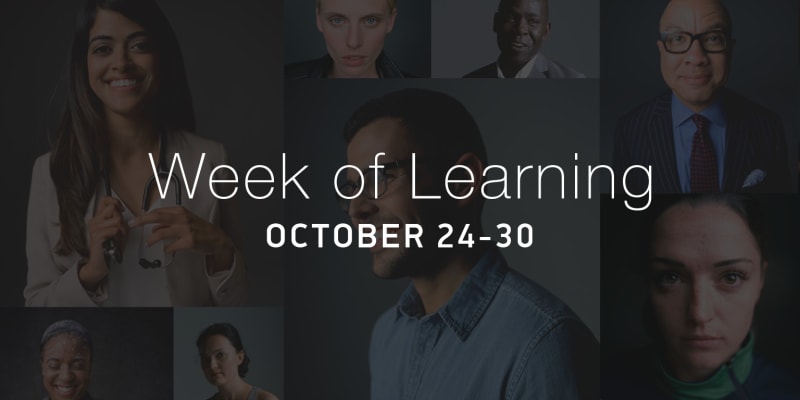 I was beyond excited when my intern, Nisha, shared with me that LinkedIn Learning was offering its 5000+ online courses free. Just for this week. If you don't know me, I'm a Udemy junkie who basically stocks up on every skill I want to learn.
But now we're two days late in the game. With this freebie ending on Sunday 30 Oct, there's no time to lose. What courses should I start taking? What skills would be important to have?
After spending an entire afternoon reading up on different courses, here's a handy compilation of everything you need to know about LinkedIn Learning's free Week of Learning. From promising courses that you can start with, to LinkedIn's compiled table of 25 hottest skills that get people hired. 
Since this is also my first time checking out LinkedIn Learning, I'll be adding some of my first impressions about it at the end of this post.
What is LinkedIn Learning?
Some of you may be familiar with this. LinkedIn acquired online learning platform, Lynda.com for $1.5 billion in April 2015. The brainchild of this acquisition is LinkedIn Learning. An online learning platform jam-packed with over 9000 courses covering business, tech, creative skills and more.
What courses should I start learning?
I've yet to start on any of these courses, but here's a list of courses that look promising. I've also included the course duration and number of viewers thus far – because we're lazy this way.
1. HTML Essential Training | 
5h 54 mins 133k viewers
Summary: HTML is the programming language that powers the web. This course provides an in-depth look at the essentials: the syntax of HTML, best practices for writing and editing your code, and how HTML works with CSS and JavaScript to create rich, engaging user experiences.
Quick Note: With 19 secondary schools primed to offer programming in 2017 as a new O-level subject, Computing, it is clear that the landscape and skills required today are massively changing. It's about time we get started, or risk getting left behind by the society. Just imagine our grandchildren teaching us how to code.. Eeps.
2. Foundations Of Programming: Fundamentals
| 4h 47 mins 248k viewers
Summary: Provides the core knowledge to begin programming in any language such as Ruby, C++, C#, Python, Java, and more. Using JavaScript to demonstrate the structure of programming language, Simon Allardice shows you how to write, debug, execute your first application and understand what's going on under the hood.
3. SQL Essential Training
| 3h 27 mins 105k viewers
Summary: While Javascript teaches you the front end of programming, in terms of how everything falls into place visually, SQL deals with the back end database. Learn how to use SQL to manage your database records in these straightforward tutorials, which include a quick start guide and detailed instructions for creating tables, defining relationships, manipulating strings and more.
4. Excel 2016 Essential Training
| 8h 51 mins 90k viewers
Summary: The much needed crash course if you are unfamiliar with Excel. Learn how to simplify your life, automate your work and impress your boss. Use the powerful IF, VLOOKUP, and COUNTIF family of functions, the Goal Seek, Solver, PivotTables and other data analysis tools; and automate tasks with macros.
5. Online Marketing Fundamentals
| 3h 45 mins 108k viewers
Summary: A comprehensive fundamentals course that condenses everything you need to know about Digital Marketing in just 4 hours. Learn how to build a website that converts, SEO techniques, search and display marketing, social media marketing, as well as video, email, content and even mobile marketing.
6. Photoshop CC 2015 One-on-One: Fundamentals
| 14h 54 mins 64k viewers
Summary: Everything you need to know about Photoshop, in the order you need to know it, in this top-to-bottom overview of the world's most powerful image editing software, Adobe Photoshop.
7. Entrepreneurship Fundamentals
| 2h 20 mins 47k viewers
Summary: For individuals looking to pursue the path less travelled or budding entrepreneurs in the making. This course covers tips from getting the right co-founders and advisors on board, to refining your business idea, generating leads and understanding your funding options.
8. New Manager Fundamentals
| 1h 12 mins 65k viewers
Summary: Practical advice on how to establish your identity as a leader, connect with your team, and become a successful first-time manager. Learn how to survive your first 30 days, build trust, facilitate efficient meetings, and develop authority. This course is designed to prepare you to confidently tackle your responsibilities at work and increase your value to the organization while improving operational effectiveness.
9. Presentation Fundamentals
| 1h 31 mins 39k viewers
Summary: Tips you need to deliver strong business presentations. Learn how to convey a story, appeal to logic and emotion, gain credibility, build a deck and use techniques including strategic eye contact and engaging gestures to deliver a compelling presentation.
10. Negotiating Your Job Offer
| 1h 19 mins 2k viewers
Summary: Career coach Christine DiDonato helps professionals understand how to benchmark their job offers and make sure they are getting what they want. Learn what parts of an offer are negotiable, how to counter offer, the importance of negotiating your first job offer, how women can negotiate with strength, myths of salary negotiation and more.
11. Asking for a Raise
| 54 mins 8k viewers
Summary: Research on salary negotiation reveals that nearly 20% of people never negotiate their salaries at all. And those who fail to negotiate, starting with their first job, stand to lose up to one million dollars over the course of their careers. Executive coach Lisa Gates provides practical advice to help you understand your professional value and communicate that value to your employer.
12. Dealing with a Difficult Boss
| 31 mins 9k viewers
Summary: Navigate the challenge of working with a difficult boss by learning how to identify, understand, and manage the triggers that contribute to your problematic relationship. Learn what actions you can take, such as correctly documenting events, knowing when to speak up, and (sometimes) not taking any action at all.
13. How to Turn an Internship into a Job
| 54 mins 1.4k viewers
Summary: Everyone tells you that an internship is the way to a full-time job. But how do you actually do it? This course explains how to turn an internship into the stepping stone for your career. Learn how to evaluate an internship to determine whether it provides the skills you need, what you can do on the internship to increase your value, how to maintain your networks until you're ready for a full-time position, and finally how to go in for the full-time ask.
14. 
Communication Fundamentals
| 3h 42 mins 100k viewers
Summary: In order to lead or manage others, you need to master your communication skills. This course helps you hone your communication skills in order to deal with difficult people, influence others, confidently speak in public at a moment's notice, and much more. Think: How to enter and exit a conversation, deal with interrupters, brag tactfully, redirect gossip.
15. Introduction to Graphic Design (2014)
| 5h 58 mins 58k viewers
Summary: The fun stuff. Channel your inner creativity and learn the basics behind a good design. Receive tips on that break down the rules of colour, typography and quick-start guides on Adobe Illustrator, Photoshop and InDesign.
LinkedIn's 25 Skills That Can Get You Hired in 2016
Found this to be rather insightful. Published at the start of this year, LinkedIn analyses the 25 hottest skills that got people hired in 2015. Here's the Singapore summary – you can access LinkedIn's full slide deck here.
First Impressions: How do I find LinkedIn Learning?
Honestly, I've yet to complete any of their courses. But I'll say that I actually prefer the way the Udemy model and courses are structured a lot more.
The nature of the Udemy model is such that users purchase specific courses they want to learn, instead of paying a subscription fee to gain access to all kinds of courses. Hence I guess there is more pressure on the instructor's part to delivery a course content that is comprehensive and attractive. I'm generalising here, but the courses I see on Udemy seem to cover more depth than those that I have browsed on LinkedIn Learning.
On the same note, since Udemy instructors need to hustle to get their courses sold, there's a lot of focus on after-sales service too – most instructors are highly responsive in addressing questions that you still have after watching their videos. Basically, the whole design of Udemy website is structured to ensure course quality.
One thing I wish LinkedIn Learning had was a rating system – to let me know upfront if the course is worth investing time into. Instead, they only show how many views the course received. This can be very misleading since a video can have 240k viewers because it was posted in 2014, while another has 1k because it was just posted a week ago.
Here's my take. LinkedIn Learning would be great if you are focused on looking for a good quantity of courses to learn from. I certainly won't pay US$10-20 per course for "Negotiating Your Job Offer", "Dealing with Difficult Bosses", "Asking for a Raise" on Udemy, but it's great that I can get access to all of them on LinkedIn Learning. And besides, it's free for this week so let's just enjoy that.
What happens after 30 October?
This was a question I had that I couldn't seem to find the answer to online either.
But looking at how LinkedIn learning (or Lynda.com) works on a subscription model that gives you unlimited access to their whole library of courses, it is safe to assume that you simply do not get access to the course content anymore. Unless you sign up for LinkedIn Premium or subscribe to Lynda. This is really just guesswork on my part though, let me know if you have any sources that hint otherwise!
Header image and SlideShare statistics courtesy of LinkedIn.
---
Stay Tuned
For more tips and career hacks, coming each week.
TalentTribe brings you the inside scoop on company cultures, office spaces and daily work life of employees. Discover companies. See their office space. Hear from employees about who may not suit a culture there. We bring you a step closer to finding a career that you'll love.
We're launching TalentTribe this November 2016. Don't miss the chance to be part of it all – join our mailing list and like our Facebook Page, to get exclusive updates on our launch date, early company scoops and opportunities to be part of it all.
---
---
RECOMMENDED FOR YOU