The One Thing We Can All Learn From Distributed Teams To Maximise Value
By Tang Kai Long   •   4 min read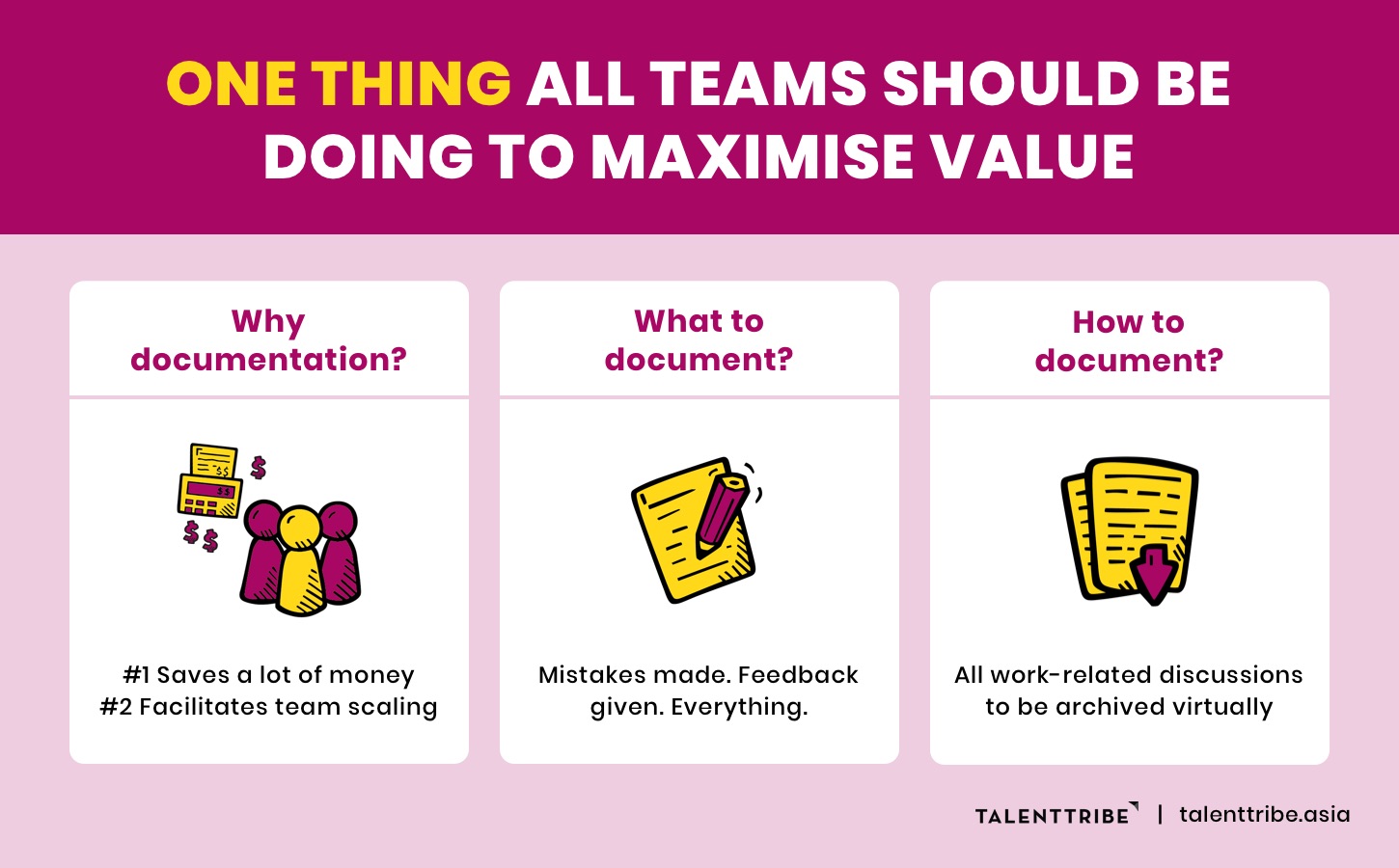 Thanks to Covid-19 and the Circuit Breaker measures, many companies have turned to remote working as an alternative to keep their businesses alive.
As we start developing our own best practices of how to effectively work from home, it's helpful to take a leaf out of people who've been running distributed teams for years.
Here's the one thing we can learn from distributed teams:
Documentation, documentation, documentation,
documentation, documentation.
We speak to Daniel Chou, Assistive Creative Director at Playstudios Asia. He has been running distributed teams for 7 to 8 years now, and also helps other employers build and structure distributed teams at his consulting firm, Oasis Interactive Design.
Here's one message that I want to share to those who want to go into distributed teams.
When you're in a physical office together, the talents that you hire have a cost-per-minute. You break down the salary of every employee and think about their cost-per-minute or cost-per-hour, and then think about the things that you do.
In a distributed team, everything you do is generally in public channels, like on Slack, so we can see it. Through that, we form this very good practice where we document everything. Everything is documented.
Documentation, documentation, documentation, documentation, documentation. I cannot stress the importance of that. And I know it sounds freakishly obsessive – but here's the reason why.
Think about it from the employer's standpoint. You're paying for someone's talent by the minute and hour. If that person in your physical office shares that experience and it's only absorbed by one person, that experience becomes a cost. Because once you say it, it's gone. It disappears into the air, only absorbed by one person. That's a lot of value you're losing.
You're losing money every time your employee speaks.
However, in a distributed team, every time they type something, that knowledge is saved. It's saved and documented, archived in Slack. So you're increasing the value of everybody on the team, just by having them type and retain their knowledge in Slack.
So then you can figure out how to manage your leadership and management team to document everything, so that everything that is said – from the feedback, mistakes, to the expertise are all documented. That is money kept! I can't stress the importance – run the numbers through.
If you have a 30-man team, think about how much money you're losing – just by talking. If you have a Zoom meeting, the stuff that you're discussing can be recorded or saved. That's what you need to figure out – how to document it.
What happens when someone who worked with me for 3 years decides to leave, and I didn't document a single thing? Their experience, corrections, mistakes, and knowledge are all gone. You just wasted the entire salary you paid that person for 3 years. Now this person is going to take whatever he's learnt, go to another employer and make them better.
So I want to know everything that they know. I want to document how they do things, what mistakes they made, what feedback they gave or received – everything! Everything should be documented.
Because this is money I am spending on them. I'm spending money to keep their talent, to learn about their expertise, and I want to reserve that. So that when they do leave, they leave behind all their previous thinking, knowledge, and experience. Everything from the past 3 years is saved.
And then when a new employee comes in, they can start off by reading the knowledge of the previous guy from the past 3 years. That is way faster than training someone.
Now imagine you do that to your entire team. All of them – from their onboarding, finances, to how they run meetings, execute stuff – every single discipline is documented.
Can you imagine how much easier it then becomes to scale your team?
It's so easy for me right now. Every process that I need to repeat once or twice is documented. So that when someone new joins, I can be like "Here, read this".
The number one rule is to think about how you want to scale your team. Here is something you have to ask yourself. If I need to repeat this feedback a second time, then I need to document it.
If someone else, later down the road, is going to encounter the same mistake, then I need to document it.
If this is a process that can be automated, then I need to document it.
Whether you run a distributed team, remote team, or physical team, make use of this one tip to maximise your potential gains from your talent.
---
---
RECOMMENDED FOR YOU