Global Ready Talent (GRT) Programme Explained: Get 70% Salary Subsidy For Interns
By Tang Kai Long   •   8 min read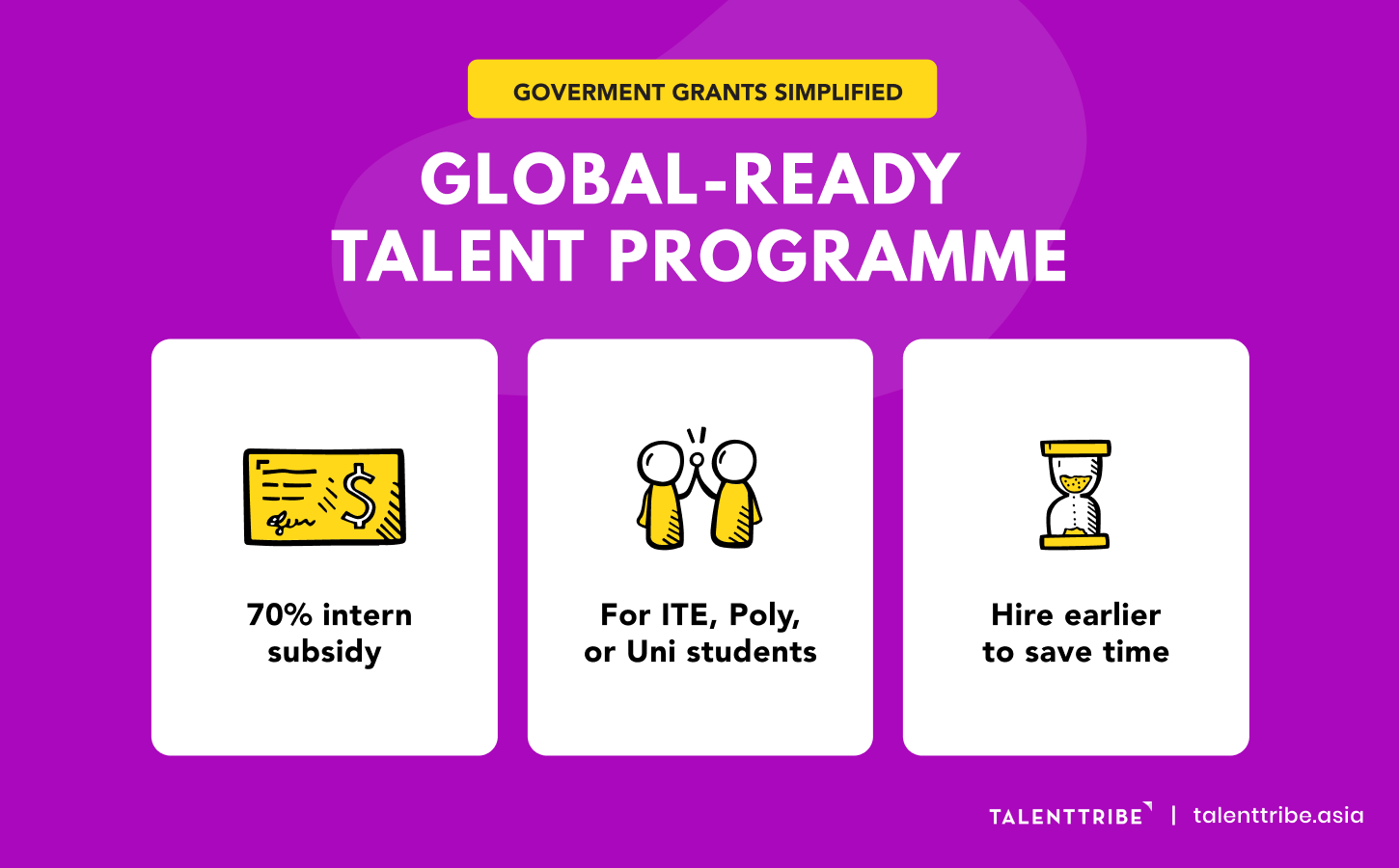 If you're hiring an intern for $1,000, you can have the Government pay up to $700 for you.
That is what the Global Ready Talent (GRT) Programme is all about.
But if this is your first time applying, the process can get a little complex – which is why we are here to break it down for you. From the criteria you need to qualify, the application process, all the way to making claims – we have it all simplified for you.
What the GRT Programme does
For local internships
The GRT Programme offers up to 70% funding support on the monthly internship stipend. Which means the Government will be paying up to $700 for the intern you hired at $1,000.
For overseas internships
For internships held outside of Singapore, this programme also includes a Monthly Subsistence Allowance as well as a Lump Sum Travel Allowance. These are provided on top of the 70% funding support on the monthly internship stipend.
For internships that are both local and overseas
They term this a Hybrid internship.
They allow for the internship to be carried out in both Singapore and overseas, provided that the overseas stint lasts for at least two-weeks continuously. Likewise, a Hybrid internship would allow you to receive up to 70% funding support on the monthly internship stipend.
How to qualify for the GRT Programme
The minimum monthly allowance awarded has to be at least $800 for ITE and Polytechnic students, and $1,000 for University students.
Companies must be incorporated in Singapore and own minimally 30% local shareholding.
If you're offering an overseas internship, you must have existing overseas operations. It is not possible to send an intern overseas to explore the possibilities of an overseas market.
You should have a mentor assigned to the intern for guidance throughout the internship. All job scopes should also be clearly listed, as with all structured internships.
And it goes without saying that the company must be financially capable of sustaining the intern throughout the entire duration of said internship.
How to apply for GRT Programme
This is where the process can get a little be confusing. Stay with us.
There are 3 main steps to this process, and every step will be further explained.
First, you'd want to establish your company as a GRT Programme participant
Next, you need to secure your intern. That includes the sourcing of interns and getting them approved for the programme.
The last step would be the claim process to get your reimbursement.
1) Register your company as a GRT Programme Participant
Step 1: Register your company under the GRT Programme
To do that, you have to visit the Global Ready Talent Programme page and register as "Company" with your CorpPass.
Step 2: Upload mandatory supporting documents
Once you're done with the company application, proceed with uploading of all of the mandatory supporting documents. What you'll need:
ACRA business profile (updated within the past 6 months)
Company's financial statement (for the past 18 months)
Looks like this on the GRT platform:
Step 3: Select your "buddy"
Before you can proceed, you'll have to choose a "buddy" from this list. These Approved-in-Principle (AIP) partners will be your main point of contact for all GRT-related issues.
Selecting a preferred partner is a mandatory part of the application.
After which, you'll be all set for the first step. Upon approval, you can proceed with the next step – securing an intern.
2) Secure an intern
Step 1: Get the internship position approved
Before all else, you have to first post an internship position on the GRT website. It's a pre-requisite for the grant application.
To do that, go under "Job listings" in your Dashboard and click on "Create Internship Position".
And there you have it – your internship position posting with GRT.
But that is not the green light, yet.
After you posted your internship position, it will take up to 10 working days before the internship position is approved. Once you receive an automated email saying "Your job position request is successful", that is when the position will be published on their platform.
Tip: Once a job posting is approved, you won't have to repeat this step for the next hire.
Step 2: Get the internship candidate approved
Once you find a candidate that matches the internship role, you will have to get clearance for him or her. A few criteria they have to meet:
Must be a Singapore Citizen or Permanent Resident
Must be full-time students from ITE, NYP, NP, RP, SP, TP, NTU, NUS, SUSS, SIT, SMU, SUTD, SIM GE
Post graduate programme interns are not eligible
The intern should not have started worked prior to application
Must be a full-time internship
When submitting your intern in for clearance, you will need the following documents:
NRIC (front & back)
Internship placement letter issued by the school. Must include the candidate's NRIC, full name, internship duration, start & end date, and salary.
Looks like this on the GRT platform:
Note: Unlike the one-time job listing approval, you will have to obtain approval for every single candidate. Which means if you're hiring another person for the same job scope, the job listing need not be approved again, but the new candidate must be approved in this same process.
Step 3: Accept the Letter of Offer (LOF)
Once it's approved, you should receive an email notifying you of the successful approval. Simply follow the instructions to click on the pending request to accept the LOF.
Pro-Tip: Here's a practice that we highly recommend. Start sourcing your interns before the internship position is even approved. Doing both of them simultaneously and you can save a lot of time, instead of starting the intern sourcing process only after the job position approval.
"But candidates can only see my internship posting after the position has been approved, so how can I start sourcing beforehand?"
Step 4: Finding a candidate
Here are 2 alternatives you can explore:
Local universities
Job portals
Local universities
Universities usually have a service that allows employers to inquire about students that are actively searching for internships.
Tap into the pool of talents from local universities and pre-emptively start the hunt for a potential candidate.
Job portals
"Duh, where else would you find people who are looking for jobs?"
Instead of casting your net into the vast ocean, why not focus on the pond with the most fishes?
TalentTribe is a career platform that places an extra emphasis on students and fresh graduates that are looking to kickstart their career in the most ideal way possible.
Which means that your chances of securing an intern would be much higher with us.
Factoring in the time taken to screen candidates and cherry-pick the right person, you'd ideally want to have a pool of applicants by the time you send in your internship posting for approval.
Start looking for interns now.
Step 5: A personal bonus tip
There is a concern, however, with listing an internship posting without first securing the grant application.
How much should you offer on your internship posting?
Because if you promise $1,000 and the grant didn't come through, you'll have to fork out the full sum.
To work around that, simply promise a sum that you are comfortable forking out, and let potential candidates know that if the grant does come through, they will be entitled to the full $1,000 allowance.
For example: List the internship posting with a $600-$1000 allowance. In your offer letter to the intern, offer a $600 internship allowance, but let them know about the Global Ready Talent Programme and that once the candidate is approved for the grant, the internship allowance will be increased to $1,000 every month.
No for real, that's what we did.
3) Claim yo' money
You will get paid the lump sum of the grant at the end of the internship. Here's what you will need to prepare:
1-month bank statement to prove you actually paid out the money to the intern (you can redact all sensitive information)
Every month's pay slip for the intern
GIRO form filled up and sent (done upon acceptance of the programme)
For each intern, you will also need to prepare these additional document:
Company feedback form on the intern
Intern's feedback form completed on the GRT platform – Important note: This needs to be completed before the end of the internship
Intern's internship report. Some schools require this, so some interns would already have needed to prepare it. If not, they will need to prepare a write-up on their experience and key learnings during the internship.
Be sure to keep everything properly documented, else you may risk losing the reimbursement that you went through all these trouble for.
To find out more about grants like these, check out our series of "TalentTribe Explains", where we break down Government initiatives aimed to help companies better hire and retain talents.
---
---
RECOMMENDED FOR YOU