How To Write An Effective Job Description That Attracts Candidates
By Tang Kai Long   •   5 min read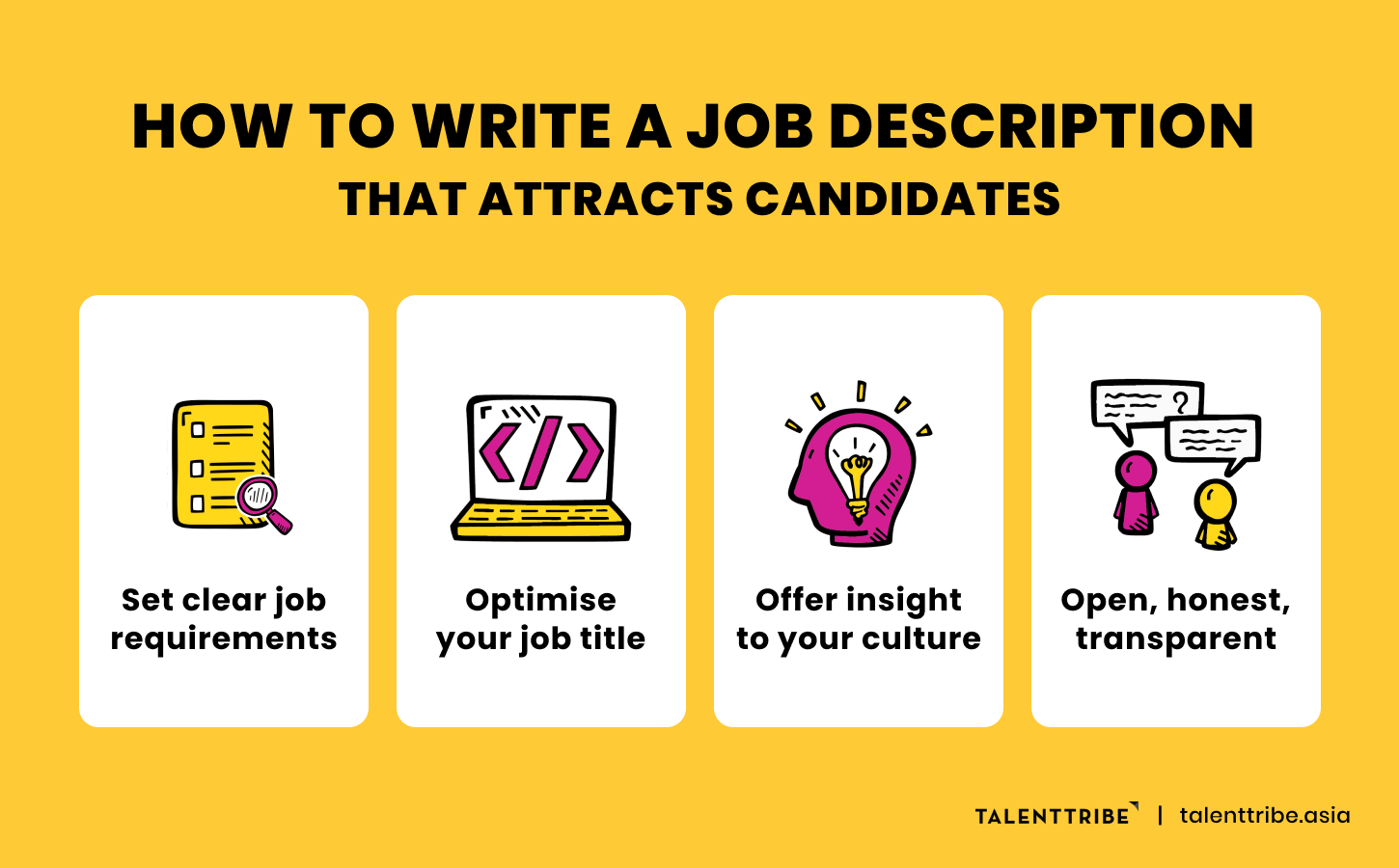 4 hours spent on doing up a job post. Another $200 spent on advertising it. And what do you get? 
A handful of lacklustre applicants.
Here's how you can craft a job posting to best attract the right talent in the market. 
Optimise your job title to be found
Don't confuse sales for marketing. Don't mix advertising with growth. 
People often search for job openings by their job title, so you want to make sure your job title is optimised for Search Engine Optimisation (SEO), so that jobseekers can find it on Google and on the job board.
And if your company is known to have unconventional job titles, read more about How Millennials Feel About: Unconventional Job Titles before deciding if you should proceed with it.
Show, not just tell
Most job postings sound like copy-and-paste listings, that don't help jobseekers truly understand what they're signing up for. Your job summary and responsibilities need to help jobseekers visualise what they will be doing in this position. Be as descriptive as possible. Make it clear what they will be doing and what would be expected of them.
Think: 
Who will they report to?

 

What does the day-to-day life look like?
Who will they be working with?

 

What will be the main goal for them during the few 6 months?
What will they be learning in this role?
How many assignments are they expected to submit each day?

 

Will they be managing people?

 

Is there a need to meet with clients?

 

Do they have to work on weekends?

 
Because there will be a lot more information in this section, it's best to use bullet points – it makes for easier scanning. 
Something else that goes a long way is to also address them personally instead of saying "the selected candidate":
Don't: The selected candidate will be in charge of disseminating information to all relevant stations.
Do: You will be in charge of disseminating information to all relevant stations.
Use job requirements to help jobseekers filter themselves in / out of the job
This is very important if you want to make sure you get the right candidates applying for your role. 
How many years of experience do you expect of them?

 

What are the certifications you may need them to possess?

 

Do they have to be familiar with certain software or application?
What key soft skills do you need them to have?
Unfortunately, many requirements listed in job postings are a waste of space. 
What does it mean to have "Effective communication skills"? Would any jobseeker think that they are not "detail-oriented" enough and hence not apply for the job?  You want to make sure that each word on the page is there because it's needed. 
Here's an example: If you're hiring for a content writer, instead of requiring someone with "Good command of English", look for someone who "Can easily distinguish between 'plague' and plaque'". The difference is that the latter incites a clear yes or no response in the jobseeker's brain – they either think "Shucks, I don't know the difference" or "Duh, that's so easy". Which in turn makes a difference in whether they decide to apply or not – and whether you really get someone with a "Good command of English". 
Having the ability to incite a clear yes or no response from the jobseeker also helps to bridge the gap between what applicants think they can do and what they are actually capable of. In this list of qualifications, you are doing both parties a favour by making sure that potential candidates that aren't a good fit can self-select themselves out of the competition.
For example: If you need someone who is "Proficient in Photoshop", a jobseeker might see that and think "Hey, I just watched some YouTube videos on Photoshop and it doesn't look that hard. I will just try and apply." – which could give you a bunch of unqualified candidates. Instead, what you really want might be someone who "Has developed graphic designs using Photoshop for social media." Help jobseekers visualise exactly what you are looking for in a candidate. 
Like the job responsibilities, you'd want to make use of bullet points so applicants can quickly assess their eligibility. 
Share an inside look into your company culture
Besides hiring for skills and experience, it is important to bring onboard someone that you can actually see belonging in the organisation. 
Increasingly, employers are paying more emphasis to cultural fit. After all, skills and experience can be harnessed over time. The same cannot be said about cultural fit. 
Which is what this section is for – to attract someone with values that align with the company's.
What is the mission and vision of the company?
What is driving the company?

 

What are the few common traits valued in employees at your company?

 
Of course, even without all these, your job posting will still attract candidates. The way things are, there will always be more jobseekers than jobs available. Which means you'll definitely have applicants coming your way.
More than just amassing hundreds of candidates, all of these are meant to optimise your job posting to ensure that the right candidates come knocking on your door. 
Stop playing the numbers game. Especially with recruiting, it will always be quality over quantity. 
---
---
RECOMMENDED FOR YOU