Jobs Growth Incentive (JGI) Explained: Up To 50% Salary Support For New Hires
By Tang Kai Long   •   5 min read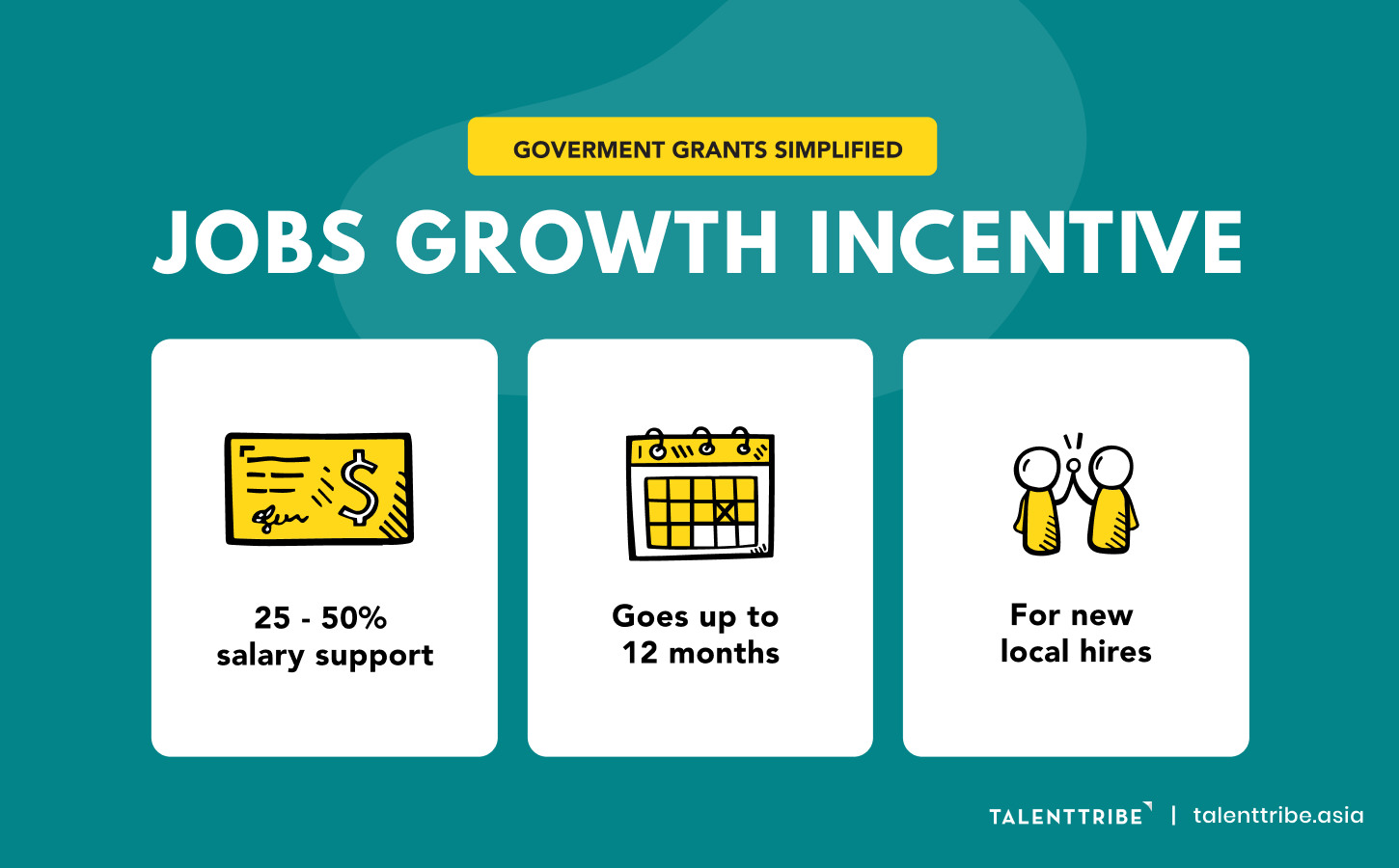 With hopes to accelerate hiring of the local workforce, the Singapore government has launched the Jobs Growth Incentive (JGI) which provides employers with up to 50% salary support of new hires.
And the best part – you don't have to apply for this scheme. All you have to do is make sure you hit the criteria to be eligible, and the government will take care of everything else.
Let us explain.
What is the Jobs Growth Incentive (JGI)?
Jobs Growth Incentive (JGI) is a government initiative that provides 25% salary support for all new local hires – capped at the first $5,000 gross monthly salary.
For mature local hires aged 40 and above, and all persons with disabilities, the margin increases to 50%.
The support will last for 12 months from the month of hire, and you will start receiving the pay-outs from March 2021 onwards.
Which makes this scheme perfect for companies that need to grow their manpower, but may be restricted by their hiring budget.
However, do note that you will not receive any JGI support for the mandatory employer's CPF contribution.
Example #1: If you hire a 25-year-old local employee at $4,000 a month, the JGI will pay you $1,000 (25% of employee's pay). Including the 17% mandatory CPF contribution that is not supported by JGI, you will have to pay $680 on top of $3000.
Before JGI, you will be paying $4,680. After JGI, it will be $3,680.
Example #2: If you hire a 45-year-old local employee or a person with disability at $4,000 a month, the JGI will pay you $2,000 (50% of employee's pay). Including the 17% mandatory CPF contribution that is not supported by JGI, you will have to pay $680 on top of $2,000.
Before JGI, you will be paying $4680. After JGI, it will be $2,680.
How do I qualify for Jobs Growth Incentive (JGI)?
Because the scheme is meant for employers to grow the size of their local workforce, you will have to achieve the following 2 conditions:
Condition #1 – An increase in overall local workforce compared to its size in August 2020
Condition #2 – An increase in local employees earning at least $1,400 a month
Which means, if you have 5 employees earning at least $1,400 in August 2020, you will need to have new hires (on top of your existing 5 employees) earning at least $1,400 that get hired between September 2020 to February 2021 to qualify for the grant.
Also, you cannot just start a company now in light of the substantial benefits that the government is offering, just to take advantage of this scheme. Your company must be established on or before 16 August to qualify for the JGI.
We know what you're thinking, but nice try .
And because this grant also emphasises the retention of existing local employees, the JGI payout will be adjusted downwards if your existing local employees leave.
The more employees that leave your company, the higher the adjustment factor – and the less you will stand to gain from the JGI.
So it is not just about getting more local hires, but also keeping those that are already working for you.
Let's say your company has 10 employees now, and brought in 2 more new local hires. But in the process, 1 of the original 10 employees left. Now, your total employee count is 11 – still an increase from the original 10.
Which means you're still eligible for salary support for that employee, but the total reimbursement will be 10% lesser than what you would have originally received.
Example: Instead of getting $1,000 for an employee you're paying $4,000 for, you will only be reimbursed $900 per month.
How is the downward adjustment calculated?
They will reduce the amount payable by the percentage of employees that left.
In the above example, because 1 employee left (i.e 10% of the original company size), there will be a 10% downward adjustment.
If there is a decrease in your original company size by 20%, then the downward payment will be 20%. So on and so forth.
If I don't need to apply for this grant, how do I receive the salary support from JGI?
The payouts are computed on a monthly basis, according to your mandatory CPF contributions. You will have to continually meet the eligibility criteria for the entire 12-month period in order to receive the JGI for the full 12 months.
If you fail to meet the criteria, even just for one month, you will not receive anymore JGI benefits even if you qualify for the JGI afterwards.
The payouts begin starting March 2021, as shown in the table below.
Month where CPF contributions for new local hires from September 2020 to February 2021 is made for: 
Gross wages for JGI in the month of hire will be derived based on mandatory CPF contributions paid on or before7:
Month when JGI payout will be disbursed:
Payout 1
September 2020
14 October 2020
March 2021
October 2020
14 November 2020
November 2020
14 December 2020
Payout 2
December 2020
14 January 2021
June 2021
January 2021
14 February 2021
February 20218
14 March 2021
Payout 3
March 2021
14 April 2021
September 2021
April 2021
14 May 2021
May 2021
14 June 2021
Payout 4
June 2021
14 July 2021
December 2021
July 2021
14 August 2021
August 2021
14 September 2021
Payout 5
September 2021
14 October 2021
 March 2022
October 2021
14 November 2021
November 2021
14 December 2021
Payout 6
December 2021
 14 January 2022
May 2022
January 2022
14 February 2022
That is not all.
You can actually stack this Jobs Growth Incentive (JGI) with P-Max, a grant that offers up to $10,000 when you hire PMETs and retain them for at least 6 months. Doesn't sound too difficult, right?
---
---
RECOMMENDED FOR YOU