A Recruiter's Guide To Open and Honest Candidate Communication In A Pandemic
By Poon Yi Lin   •   4 min read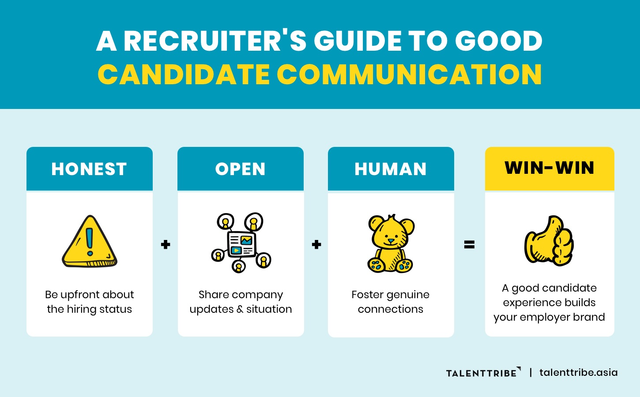 In recent months, many have been stressed out by remote working due to the difficulties of virtual communication. For recruiters balancing both candidate and colleague communication, this problem can feel even more overwhelming.
How can recruiters engage talents and protect their employer brand during a hiring slowdown? What can recruiters share with candidates other than "Sorry, we're not hiring"?
We speak to Cynthia, Talent Acquisition Manager at Publicis Sapient, and Jocelyn, Employer Brand Manager at Revolut, both of whom have a wealth of experience in this space. They discuss their views and advice on communicating effectively with candidates, especially in the face of today's stressful job market.
1. Say it as it is
Be open with candidates about the company's hiring status. As opposed to ignoring candidates, let them know that the company is undergoing a hiring freeze and encourage them to apply again in the future.
"What I did for the candidates that we intended to shortlist was that I sent them a personal email individually, and informed them that we were not able to run the recruitment hackathon because of the situation and hiring freeze. However, I encouraged them to continue to touch base and told them that we will get back to them when the situation gets better and we're able to run it again."
In fact, being honest about the company's hiring status helped Cynthia maintain engagement with talents, who reached out to her again recently.
"For those that were shortlisted, they received an email, and two of them recently touched base again to ask how the situation was going. I had to explain to them that it's still on hold at the moment, but we are looking into a government training program to see if we can revive this again, so we'll come back at a later stage. I think having open communication with candidates is very important, as opposed to not responding and them not hearing from you at all, as that is not a very good experience."
2. Sharing is caring
When tides turn and the economy gets better, jobseekers will remember what companies did when times were bad. Recruiters who take the initiative to share with talents the companies' initiatives in this time will naturally retain jobseekers' share of mind.
Cynthia goes further to share with candidates the company's rationale for implementing a hiring freeze. "Besides sharing that we are going through a hiring freeze, I also share that for Publicis Sapient, we look after our people as much as possible. The reason we have a hiring freeze is because we want to make sure that we come up with a plan to retain our own people first. Taking care of our people internally is so much more important because we don't want a situation whereby we employ more people to have our people not having enough work to do."
Taking the effort to share company updates helps candidates feel valued, thus improving their candidate experience despite a hiring slowdown. Be it whether you used to hire 50 people and now you're hiring 5, Cynthia emphasises that working on your brand today will make a difference.
"It is important for recruiters to continue instilling confidence in our talents to keep potential talents warm. Even though this is a down season, I may be actively hiring 6 months down the road. Hence, I will still be looking at how I can engage potential talent."
If you're unsure how to inform candidates of a sudden hiring freeze without damaging your employer brand, check out this article for detailed tips.
3. Don't be afraid to be human
The core of a recruiter's job lies in building connections with people. As jobseekers struggle in a turbulent job market, a recruiter's people skills and empathy can make all the difference to them. Jocelyn emphasises the role that empathy and vulnerability play in fostering genuine candidate connections.
"We can always afford more transparency and honesty. I think many recruiters struggle with the question of what is the right amount of information to tell to candidates. I do think it is entirely possible to be transparent with candidates without hurting your company's interests. For example, let them know that you're really sorry, you loved the interaction with them but unfortunately the company is facing a similar situation as other companies where it has had to lower the number of vacancies.
Communicate honestly, and at the same time, apologize when you need to. I think companies should do this more. There is nothing prideful about drawing candidates into the company, only to have to let them go due to budgetary changes. In fact, when they are willing to be honest and vulnerable, they are creating a very strong connection with their candidates."
Finally, remember to keep your communication H.O.T. – Honest, Open, Two-way.
---
---
RECOMMENDED FOR YOU