P-Max Explained: Up To $10,000 For SMEs That Are Hiring
By Tang Kai Long   •   6 min read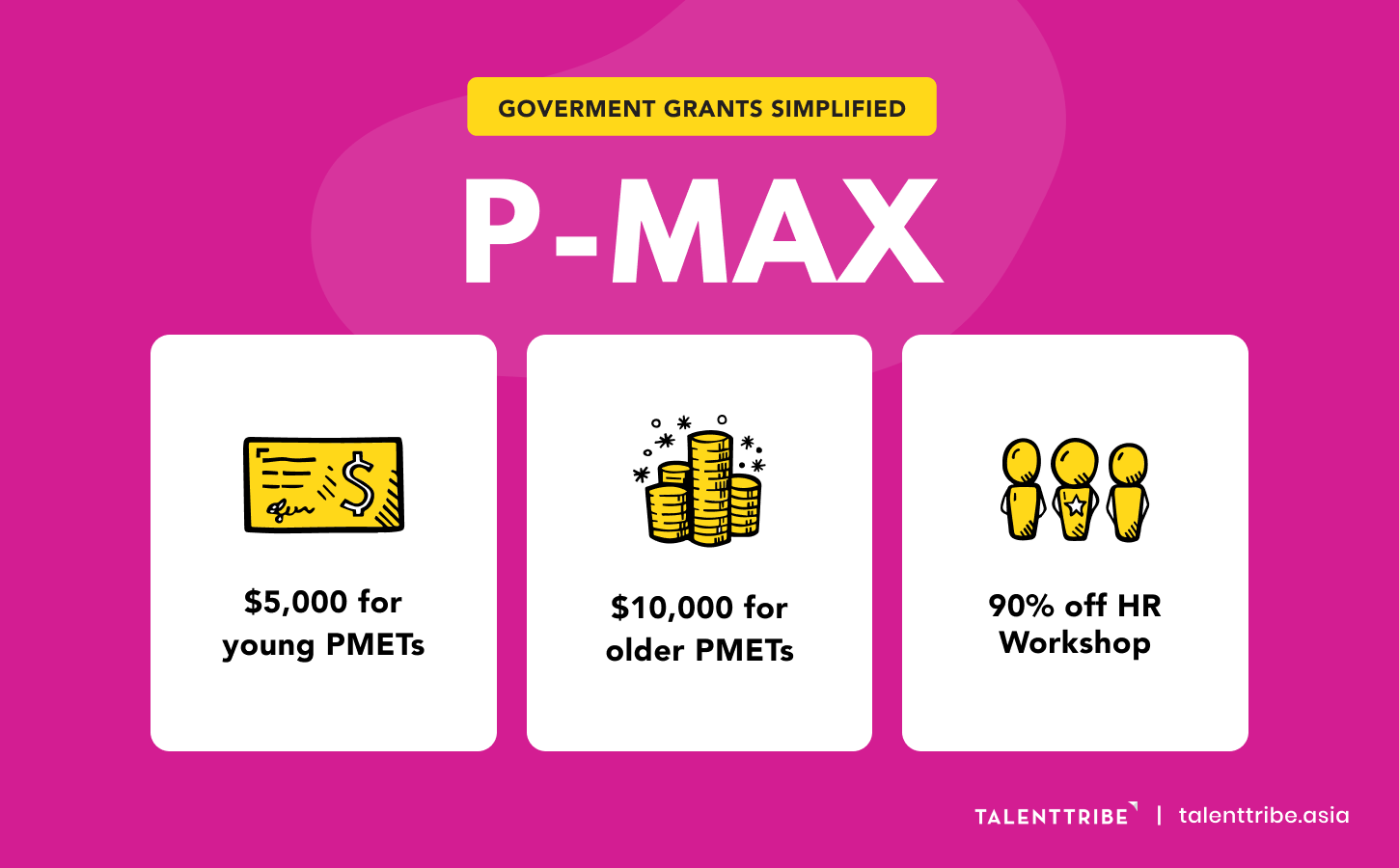 If you are an SME looking to hire new employees, here is your chance to get a one-time assistance grant of up to $10,000.
But if you haven't heard of P-Max or applied for government grants before, this whole thing may sound a little foreign to you.
Which is why we're here to break down the process for you, step by step, and any concerns you may have along the way.
Stay with us.
What is P-Max?
P-Max is a one-time government grant meant for local SMEs looking to hire PMETs. It provides financial aid to help companies recruit, train, manage, and retain their new hires.
Upon completion of the programme, the newly hired PMET has to stay with the company for at least 6 months before you can receive a one-time $5,000 Assistance Grant.
For PMET (PMET is Professionals, Managers, Executives and Technicians): Your new hire will have to attend a 2/3-Day workshop to better acclimatise to and take on SME jobs.
For SME Supervisors: Since improved communication is a 2-way street, there will also be a 1-Day SME workshop your supervisors to learn how to better communicate with the newly hires.
P-Max for older workers
For SMEs that hire an older employee (above age 50), the grant provided is increased to $10,000.
Under this scheme, representatives of your company will also have to attend an additional 1-Day Age management workshop. This workshop is aimed at helping them better communicate and manage the newly-hired older workers.
Note: All workshops are cover up to 90% by the WSG course fee funding for Singaporean and PRs.
P-Max Lite (For SMEs that are not hiring)
So if I'm not hiring, there's nothing in it for me..?
Of course not. For SMEs that are not hiring, the Government is offering a P-Max Lite scheme aimed to help employers better manage their existing staff.
90% WSG course fee funding for Singaporeans and PRs
Even if your company isn't hiring, direct supervisors of PMETs within your company are eligible to attend the 1-Day SME workshop at a subsidy up to 90%.
However, do note that SMEs under P-Max Lite will not qualify for the assistance grant.
Note: If you have previously sent a supervisor to attend the workshop at a 90% discount, the same supervisor will not be allowed to attend the course again. If you were to apply for the P-Max grant after applying for P-Max Lite, you will have to send a new supervisor to go for the SME workshop in order to qualify for P-Max.
Who is eligible for P-Max?
To be an eligible SME means:
Your company should be registered or incorporated in Singapore
Employment size cannot exceed 200 OR Annual sales turnover cannot be higher than $100 million
At least 30% local shareholding being held by Singapore Citizen or Singapore Permanent Resident
You must have hired a PMET within the last 3 months prior to enrolment into programme, and the salary offered has to be at least $2,500
The PMET criteria:
The new hire has to be a Singapore Citizen or Permanent Resident
Possess educational qualifications that are Diploma or higher, or have prior work experience in a PMET position
For the guys, they must have graduated or completed National Service for a minimum period of 12 months
How to apply
Simply contact the Programme Managers in the infographic above for more information, or send in your interest here.
Frequently Asked Questions
How much are the workshops after subsidy?
For the 2-day PMET Workshop, the course fees are S$1,500, and a 90% subsidy will bring it down to S$150. After GST, the total amount payable is S$160.50.
For the 1-day SME Workshop, the course fees are $500, and a 90% subsidy will bring it down to $450. After GST, the total amount payable is $53.50.
Will the workshop be held over the weekends, or during work hours?
For the SME workshops, they have been held on weekdays, from 9am to 5pm.
For the PMET workshops, because it is a 2-Day workshop, it may sometimes fall on a weekend. Similarly, the workshops will be from 9am to 5pm.
When can the claims be made for P-Max?
The claims for the P-Max programme can only be made after completion of the whole programme, which includes the mandatory workshops, and after the new employee have stayed with the company for 6 months.
Do I have to make payment for the workshops, or will it be deducted from the assistance grant?
The payment for the workshops have to be made after the booking is confirmed, so the company will have to bear the costs before the grant is awarded.
 
Will the employee/SME representative be reimbursed for time lost due the attending of workshops?
There will be no reimbursements of any sort. The company will have to come to an agreement with the employee or the SME representative on their own.
When will the 6-month retention begin? Upon hiring of employee or after the workshops?
The 6-month retention of the newly hired PMET will begin right after the completion of both the PMET and SME workshops under the programme.
Where can I register for the workshops?
Your programme manager will share a link with you that allows you to register for the relevant workshops, after you have been approved for the respective P-Max programme.
What documents will I need to officiate the claim for P-Max?
Letter of Appointment of the newly hired PMET, attached with company letterhead
ACRA business profile (updated the past 3 months)
Scanned copy of NRIC of both SME and PMET
CPF contribution history of the new hire for the past 15 months
Information shared in this article were accurate at time of publishing. For the most updated information, please refer to Ministry of Manpower's website here.
Government support initiatives aren't limited to SMEs looking to hire PMETs. They also offer funding support for Singapore companies that are looking to hire interns.
Read more about "Government Initiatives Explained: Get Up To 70% Funding Support When Hiring Interns With Global Ready Talent Programme"
---
---
RECOMMENDED FOR YOU