4 Recruiter Tips For A Positive Candidate Experience Amidst Hiring Freezes
By Poon Yi Lin   •   3 min read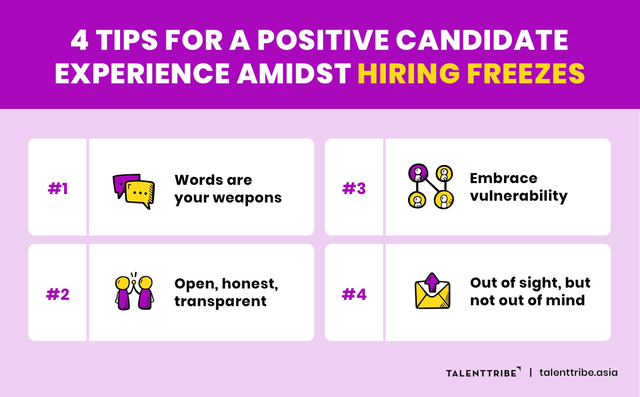 With companies freezing hiring and retrenching workers by the hundreds, it is tempting to just ghost candidates or turn everyone away across the board.
But that could severely damage your employer brand and set you back when the economy recovers.
We speak to Jocelyn, Employer Brand Manager at Revolut, who shares her views on how recruiters can engage candidates in these difficult times while protecting and improving their employer brand.
1. Your words are your weapon
It's not about what you say, but how you say it, and this is a prime opportunity for recruiters to apply that to their interactions with candidates.
Being sensitive to candidates' emotions in this season, approaching candidate communications tactfully, and addressing them with respect can help make their experience with the company memorable. Even if you're informing candidates about a sudden hiring freeze, tact will go a long way in protecting your brand.
You may be interested to check out how to inform candidates of a hiring freeze without damaging your brand.
2. Communication is a two-way street
How much information should be revealed to candidates?
As much as possible, be open and honest. "I think many recruiters struggle with the question of what is the right amount of information to tell to candidates.  I do think that it is entirely possible to be transparent with candidates without hurting your company's interests. For example, let them know that you're really sorry, you loved the interaction with them but unfortunately the company is facing a similar situation as other companies where it has had to lower the number of vacancies."
3. "It's not you, it's me": Embracing vulnerability
When recruiters are willing to be honest and vulnerable, they are creating a very strong connection with their candidates.Positive candidate experiences are built when recruiters establish a genuine connection with candidates. Sometimes, this can mean having to apologise and letting candidates know about difficult changes the company is going through. And it's okay to keep things real!
4. Out of sight, but not out of mind: Keep the relationship warm
Letting go of valuable candidates does not have to mark the end of their candidate experience. If there are candidates who are a great culture fit and have valuable skills, keep in touch with them. Send them an email every month to ask how they've been doing, catch up with them, and when the time is right, ask if they would like to consider a similar role to the one they've applied for.
Remember, the recruitment approach you take in this pandemic will affect your future talent pool. Jobseekers remember what companies do in tough times – and you could turn this into an opportunity for your employer brand.
---
---
RECOMMENDED FOR YOU