5 Ways Recruiters Can Value-Add During A Hiring Slowdown
By Poon Yi Lin   •   5 min read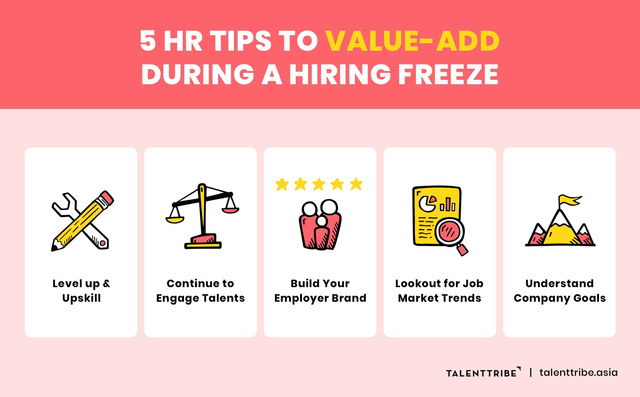 Hiring slowdowns and even freezes have put many recruiters in a stressful position today.
"I'm scared of losing my job. I've just been put on a 4-day work week with a reduced workload. What else can I do?"
If these thoughts have crossed your mind, you're definitely not alone.Among recruiters' top concerns today is how they can remain relevant and valuable to their companies to safeguard their jobs even in the midst of a hiring slowdown.
We speak to Cynthia, Talent Acquisition Manager at Publicis Sapient, who shares her views on how recruiters can value-add in this pandemic and recession, as well as actionable steps they can take towards it.
1. Level Up With The Must-Have Recruiter Skills Of Tomorrow
Here are some ideas on what you can level up in during these times:
Recruitment Marketing: Cynthia shares that she has been making use of the recruitment down season to upskill her existing skill sets. The first skill she has chosen? Recruitment Marketing.
Recruitment Marketing helps recruiters to locate, attract and engage potential talent before the job-application stage. Good recruitment marketing is especially crucial for attracting the right talent pool: it helps build a stellar employer brand amongst jobseekers. This will help you place your company in good stead for when hiring begins to pick up steam again.
Data Analysis: A 2019 survey done by LinkedIn with close to 3000 recruiting professionals found that the number of recruiting professionals who indicated data analysis as their skills on LinkedIn more than doubled in the last 5 years, and these numbers are expected to only continue rising. HR is evolving rapidly today in preparation for the future. With the extra time on your hands, you can pick up skills that can future-proof your career.
2. Kill Two Birds With One Stone: Talent Engagement and Employer Branding
Sustaining talent engagement reflects a company's people-centric values, and can leave a deeper impression on jobseekersin this difficult job climate. This helps to build a stronger employer brand.
"It is important for recruiters to continue instilling confidence in talents to keep potential talents warm. Even though this is a down season, I may be actively hiring 6 months down the road. Hence, I will still be looking at how I can engage potential talent.
I share with external talents that while we are going through a hiring freeze, our CEO regularly takes time to conduct town halls and Q&A sessions with us. Every 2 weeks, there are regular updates from the business in terms of how the business is doing.
We received news that though we are going through this pandemic, we also have new accounts coming in, which helps to instil confidence in the business. Giving candidates some updates about what is going on and what the management is doing to take care of our people is important."
The challenge lies in communicating and engaging with talents in a genuine and tactfulmanner, especially during these uncertain times. Here's how you can communicate honestly and openly with candidates during a hiring slowdown.
3. Seize New Employer Branding Opportunities
This hiring lullseason is also a chance tograb fresh opportunities that can help improve employer branding. For example, Cynthia stepped up to be a part of TalentTribe's Get Coached By A Recruiter programme, where she coached 3 fresh graduates who were keen to move into the product design field – a field she usually hires for.
In addition to improving employer branding, this opportunity also gave Cynthia a good chance to hear from jobseekers in a genuine, candid and authentic way – she learnt about how they think, what they are keen to know about, what they look out for in a career, and was able to better understand them as candidates.
If you're looking at employer branding initiatives you can embark on during this period to better position your company for a hiring pickup, you'll want to check out our Employer Brand Builder tool. This helps you showcase your company culture to make jobseekers fall in love with your company & win over the right talent.
4. Keep a Lookout: Job Market Trends That Matter To Your Leaders
Besides keeping their own talent pool warm, recruiters should also keep their eyes peeled on the job market for the latest hiring trends and employment news from different companies.
The role of HR in strategy
Understanding candidates' shifting priorities, as well as other job market trends, empowers HR to play a larger role in shaping the business direction.
Cynthia shares that she updates her leaders on what candidates are looking for and what's going on in the job market. This echoes the 2019 LinkedIn Future of Recruiting Report, which suggests that recruiters will evolve to look more like business partners in the future. In fact, 82% of HR professionals expressed that advising business leaders will become a growing role of recruiters in the next 5 years.
What are other companies doing?
But understanding job market trends doesn't just stop at distilling jobseekers' priorities. It is also about keeping an eye on initiatives rolled out by other companies. Cynthia explains, "I can add value by providing data on what other companies are doing to cope with the pandemic." This data is useful in impacting a company's business direction and helping the company stay competitive, especially in these volatile times.
5. Dig Deep Within: Understand Your Company's Changing Goals
Recruiters are expected to play increasingly important business and strategy roles in the coming years. Developing a sharp and informed perspective on the company is crucial for this.
"When talking about value-adding and creating value, it is very important to understand what your business leaders are doing. Many leaders are thinking about how they can manage the business differently with this pandemic, so it is important to understand where the business is going."
It is only through staying informed about the company's direction and goals that recruiters can begin to value-add beyond the traditional perception of HR. With the push from Covid-19, look at how you can find the opportunity within this crisis to redefine your role into one that is more strategic and innovative.
---
---
RECOMMENDED FOR YOU