Why It Makes Sense To Run Distributed Teams In A Post-Covid World
By Tang Kai Long   •   4 min read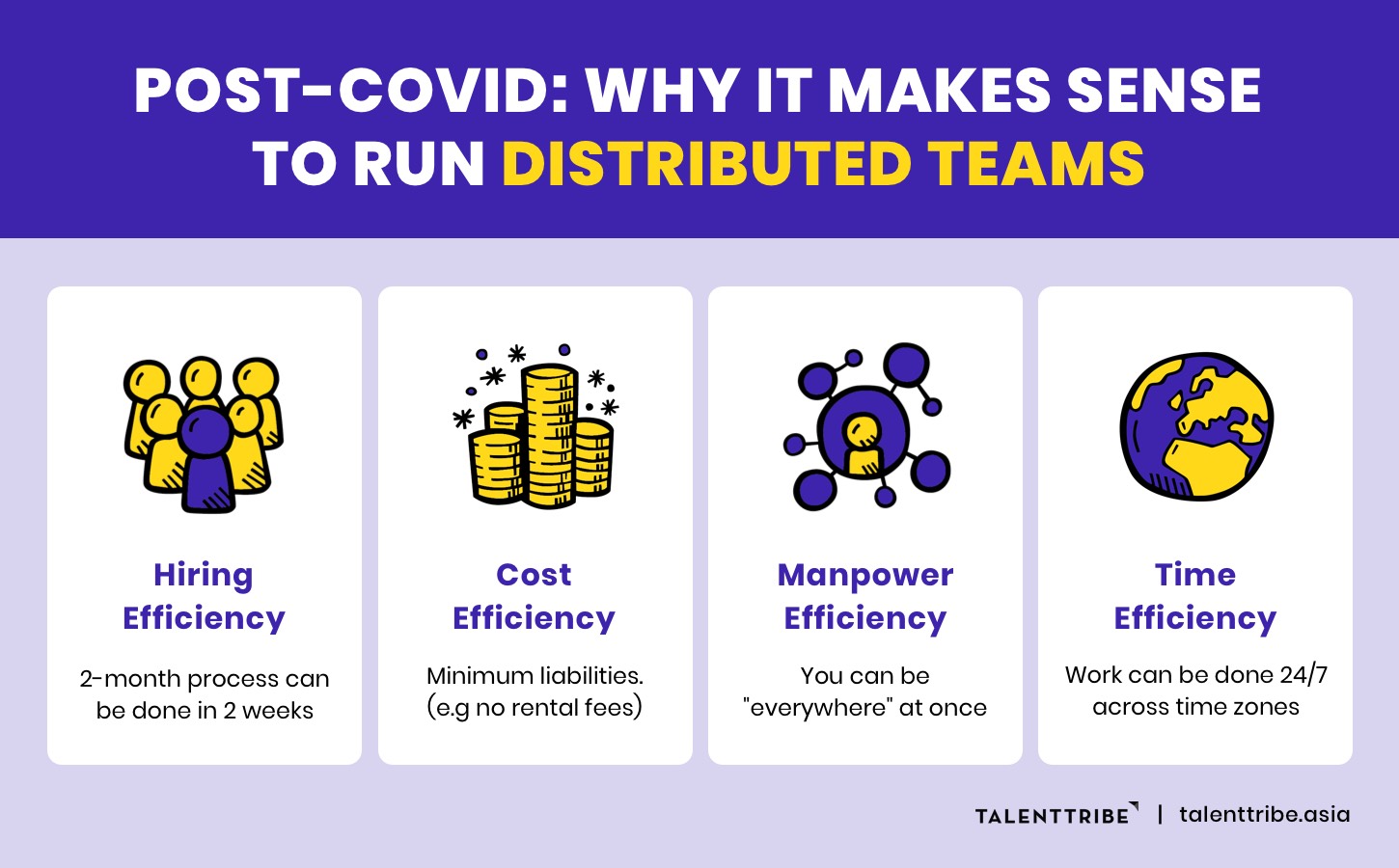 Covid-19 has accelerated mainstream acceptance of flexible work arrangements and remote working.
Here's some food for thought for the post-Covid world. Why not take it one step further beyond remote teams, and consider running a distributed team.
Before we dive into it, what's the difference between a distributed team and a remote team?
Distributed team: Has no physical office. All employees work remotely, often "distributed" around the world and across different time zones.
Remote team: Company retains a physical office. However, not 100% of the workforce works from the office. Some still work in the office, while others work remotely.
We speak to Daniel Chou, Assistive Creative Director at Playstudios Asia. He has been running distributed teams for 7 to 8 years now, and also helps other employers build and structure distributed teams at his consulting firm, Oasis Interactive Design.
Let's look at distributed teams from his lens and explore the possibilities that distributed teams can offer us.
How did you make the decision to run a 100% distributed team, and what was the rationale behind that?
There are 4 reasons why I decided to run a fully distributed team.
1) Hiring Efficiency
The first reason came from my experience working in physical office spaces.
I came from Zynga, another LAN-based company, where recruitment often takes about 2 months. So you start the recruitment process, and by the time you are done with recruitment, there's still relocation, VISA and all that. By the time you have completed that process, the job that you initially started to hunt for has already been delegated to other people within the team.
That role pretty much disappeared during that hiring process. The hiring process usually takes around 2 months if you are in a co-located physical office space, but only 2 weeks for a distributed team. So that allows us to scale rapidly in terms of team size without needing an office space.
2) Cost Efficiency
The second part is that you don't need to have any liabilities in terms of office, relocation cost, VISA, and all the other expenses. This team can grow rapidly and leanly.
3) Manpower Efficiency
Thirdly, after running distributed teams for about 7 to 8 years now, one thing that I have noticed over the years of working in a distributed manner is that I start to elevate my presence into a different work mode when I'm working. It's almost like meditation where you reach a higher Zen. You become omnipresent.
Omnipresent in the sense where you can be everywhere all at once. In fact I actually run two companies. I have Playstudios and I'm a CEO of another company. I can run them simultaneously because they are all in parallel. At the same time too, we can take advantage of time zones. I feel like nobody has really done that properly.
Which brings me to my last point – the part I love the most.
4) Time Efficiency
For teams that are co-located, you have only 8 hours in one location. Once you're done with that 8 hours, that office is closed. But because distributed teams are scattered across the globe, we can strategically hire people to pass the baton one time zone to another.
So when 8 hours in this time zone is done, the next 8 hours in another time zone can start. You can go around the globe constantly, 24/7.
And what's really cool is that Argentina is exactly 12 hours away from us. So when their morning begins, my night ends. If I have an Art Director in that side of the world, I can just pass it over and they will start their day. You loop this around New Zealand and Australia, and by the time I wake up – another iteration is already done.
And then they are other parts of the world like Israel, where their weekends start from Friday to Saturday. They start working from Sunday, and that way you can overlap weekends to make sure production is 24/7 consistently.
If you are looking to start your own distributed team, check out the articles we've developed from our interview with Daniel Chou as he shares his experience and expertise on distributed teams.
The 5 How's To Achieve Success At Remote Working
The One Thing All Distributed Teams Should Be Doing To Achieve Maximum Value
---
---
RECOMMENDED FOR YOU