Top 8 Recruitment Agencies in Singapore For Different Industries (2021)
By Charmaine Teo   •   5 min read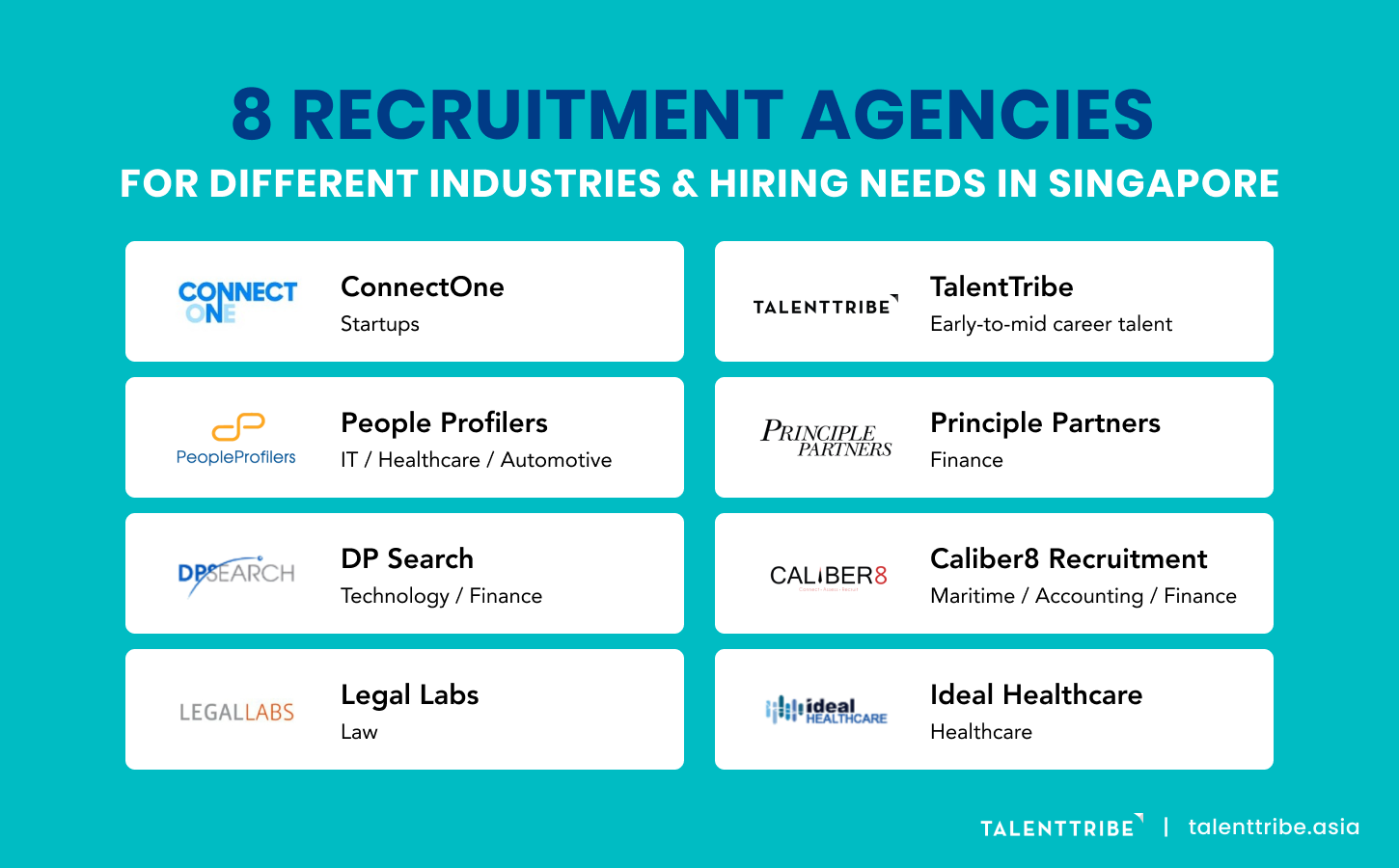 Do you currently use a recruitment agency in Singapore for your hiring?
Recruitment agencies provide you with curated candidate recommendations that suit your job requirements. This helps you to shortcut the recruitment process and get to the right hire more quickly – especially when your boss or hiring manager needs the role filled yesterday.
There are many recruitment agencies in the market. But some recruitment agencies specialise in specific jobseeker segments.
We've curated 8 recruitment agencies in Singapore for 8 specific jobseeker verticals that will help to ease your hunting for a headhunter.
For Startups: ConnectOne Recruitment Agency
ConnectOne is a homegrown Singapore company that specialises in recruiting for startups. They've helped startups at different stages of growth to recruit the talent needed, develop existing talent and leverage the gig economy. The founder, Elena Chow, has over a decade of experience in P&G identifying talent and grooming leaders. She now plays a critical role in helping employers see the great potential of individuals.
Website: https://www.connectone.com.sg/
Email: admin@connectone.com.sg
Number: –
Address: 29A Cuppage Road, Cuppage Terrace Singapore 229456
For Millennials: TalentTribe Asia
TalentTribe is on a mission to help early-to-mid career talent discover a career they'll love, by showing them an inside look into the culture, people, office and daily work life in different companies. Their Virtual Recruiter service provides you with suitable candidates – in the fields of business (finance, sales, marketing, operations and HR) and software engineering. Using the granular jobseeker data & insights from their platform, they help you get to candidates that don't just get you a good fit for your job, but also a great fit for your culture.
Website: https://talenttribe.asia/
Email: sharon.yeo@talenttribe.sg
Number: +65 9642 8118
Address: 73 Ayer Rajah Crescent #01-23 Singapore 139952
For IT/Healthcare/Automotive: People Profilers Recruitment Agency
People Profilers have been growing steadily in the Singapore recruitment sector since 2002. Their passion lies in People and Professions, whereby when intertwined, it signifies their goal – to bridge People with their ideal Profession. They cover a wide number of industries and have a great deal of experience in Aerospace, Automotive and Transport, Manufacturing, Media printing & Advertising, Biotechnology & Pharmaceutical, Healthcare, Chemical and Oil & Gas.
Website: https://www.peopleprofilers.com/
Email: enquiries@peopleprofilers.com
Number: +65 6835 7889
Address: 11 Collyer Quay, The Arcade, #13-01 Singapore 049317
For Finance: Principle Partners
Principle Partners is a recruitment agency established in 2009, with a commitment to be true experts in their product areas and to deliver tailored services with integrity, candour and vigour. Their consultants are accomplished specialists in their practice areas, with professional experience in asset management and financial journalism. They are an Asia-focused executive search firm that specialises in financial services and emerging technologies.
Website: https://www.principle-partners.com/
Email: info@principle-partners.com
Number: +65 6653 1600
Address: 212A Telok Ayer Street, Singapore 068645
For Technology/Finance: DP Search Recruitment Agency
DP Search has been established for many years in the recruitment business in the SEA region, they bring together the collective experience of Singapore's pioneers in IT and Telco executive search. They have strong search capabilities across borders in South East Asia as demonstrated through many assignments in Singapore, Malaysia, Thailand, Indonesia and Vietnam. They also ensure utmost privacy in their business for both clients and candidates. 
Website: http://www.dpsearch.com.sg/
Email: info@dpsearch.com.sg
Number: +65 6339 3935
Address: 7500A Beach Rd #11-323 The Plaza Singapore 199591
For Law: Legal Labs Recruitment Agency
Legal Labs offer recruitment services in the law sector. Their consultants are all qualified lawyers and have practised in law firms and corporates, and possess in-depth, specialised knowledge of their respective local markets. They recognise that finding the right role and having the ideal mix in the workplace is not just about matching the area of expertise or the number of years practised. Rather, they believe in long-term partnerships underpinned by trust and are committed to providing objective advice to clients and candidates alike.
Website: https://www.legallabs.com/
Email: resume@legallabs.com
Number: +65 6214 3310
Address: 160 Robinson Road, #14-07 SBF Center, Singapore 068914
For Healthcare: Ideal Healthcare
Launched in the late 1990s, Ideal Healthcare expanded their business into a global scale and have put their headquarters in Singapore since 2009. Their focus lies on the vast ecosystem of the healthcare market with a deep understanding of this sector. They also spilt their offerings into two fundamental assets in the business; products and people.
Website: https://idealhealthcare.biz/
Email: fraser@global-solutions.com.hk
Number: +65 9796 8518
Address: 8 Eu Tong Sen Street, The Central, #08-01 Singapore 059817
For Maritime/Accounting/Finance: Caliber8 Recruitment
Founded in 2017, Caliber8 Recruitment is a specialised maritime, accounting & finance recruiting consultancy that was built upon the pillars of knowledge & expertise. They are passionate about building relationships and are experts in identifying top-notch professionals for organizations. Their consultative approach ensures a successful, fostered relationship for both clients and candidates which yields impactful results.
Website: https://www.caliber8.sg/
Email: info@caliber8.sg
Number: +65 6950 8628
Address: 6 Raffles Quay, #16-01, Singapore 048580
Using a recruitment agency helps you tap on the talent pool that external recruiters have – which gets you to the right candidates more quickly and shortens your time to fill. If you have a recruitment firm to recommend, drop us an email at careers@talenttribe.asia to let us know!
If you're hiring and would prefer to start with the more affordable approach, you can start posting your jobs for free on the TalentTribe job platform to reach over 30,000 monthly active jobseekers on our platform.
---
---
RECOMMENDED FOR YOU