How To Inform Candidates Of A Hiring Freeze Without Damaging Your Employer Brand
By Poon Yi Lin   •   5 min read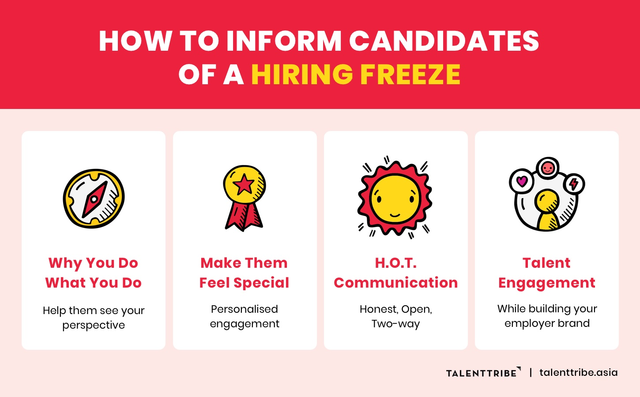 In an urgent bid to implement cost-cutting measures, many companies have decided to freeze hiring.
This is the new challenge: Informing candidates about a hiring slowdown without damaging the employer brand. How can recruiters manage this situation without killing the candidate experience? How can they best explain the hiring freeze to avoid candidates spreading bad word-of-mouth that the company cut them out suddenly?
We speak to Cynthia, Talent Acquisition Manager at Publicis Sapient, who shares 4 tips for recruiters on informing candidates about a hiring freeze while protecting the company's employer brand.
1. It's Not What You Do; It's Why You Do It
While there is no denying the disappointment of learning about a hiring freeze midway through the recruitment process, there is much more that recruiters can do to ensure candidates still feel valued and respected. It is important to be open and share the company's rationale for hiring freezes with candidates. Here's Cynthia's sharing her personal experience:
"Besides sharing that we are going through a hiring freeze, I also share that Publicis Sapient has a hiring freeze because we want to make sure that we come up with a plan to retain our own people first. The situation that we are facing in this season is that a couple of our clients have slowed down, and we have a few situations where things are not progressing as well as before. We have to look at what's doable and ensure that we utilise our people internally to maximise the working experience as well.
So that's the reason why we have to freeze hiring, because we have to ensure that we take care of our people, that we secure their roles and that they continue to have confidence with our company."
Communicate the alternative perspective that hiring freezes are a reflection of a company that values safeguarding its employees' livelihoods. Clarifying the company's rationale candidly with talents will help build a positive employer brand among jobseekers.
2. Make Them Feel Special: Personalised Engagement
Battling a difficult job market can take a toll on many jobseekers' confidence and morale, especially for fresh graduates and young adults. When informing them about a hiring freeze, recruiters can support candidates meaningfully by reaching out to them personally and suggesting to keep in touch with them.
Cynthia shares a personal experience. "In February, we posted a role to look for a graduate experienced UX Designer. Initially, we planned to run a hackathon and received many applications. We shortlisted about 15 graduates who expressed interest to join the hackathon, and we planned to hire at least 2 people from the hackathon. However, due to the pandemic, we had to put the hackathon on hold.
What I did for the candidates that we intended to shortlist was I sent them a personal email individually, and informed them that we were not able to run the hackathon because of the situation. However, I encouraged them to continue to touch base and told them that we will get back to them when the situation gets better and we're able to run it again. I think having open communication with candidates is very important, as opposed to not responding and them not hearing from you at all, as that is not a very good experience."
This worked for Cynthia in keeping the talent pool warm, as candidates retained their interest in the company. "Two of them recently touched base again to ask how the situation was going. I had to explain to them that it's still on hold at the moment, but we are looking into a government training program to see if we can revive this again, so we'll come back at a later stage."
3. Communication Must Be H.O.T:  Honest, Open and Two-Way
It can be easy for recruiters to focus solely on the task of informing candidates about the hiring freeze. But don't forget there is also a lot of value in communicating openly with talents to "share with them what the situation in the company is like, as well as what the company is doing to cope with it."
And keep the conversation two-way. Hear what jobseekers are saying, what problems they're facing, and how your company can help – in ways other than hiring them. It goes a long way in building the relationship with your talent pipeline, and building your employer brand. You'll also be surprised what insights you can gather by hearing from jobseekers.
Check out this article for more effective tips on engaging in honest and open communication with candidates during a hiring slowdown.
4. Take The Chance To Build Your Employer Brand
The conversation doesn't have to end at informing candidates about the hiring freeze. Recruiters can take the initiative to sustain talent engagement by sharing with them the latest company initiatives. This will help to build a positive employer brand to jobseekers while keeping the talent pool warm despite the hiring slowdown.
Cynthia elaborates on what she shares with talents. "From a leadership point of view, I also share with external talents that while we are going through a hiring freeze, our CEO regularly takes time to conduct town halls and Q&A sessions with us. Every 2 weeks, there are regular updates from the business in terms of what is going on, how we are going to cope with the current situation and how the business is doing.
We received news that though we are going through this pandemic, we also have some new wins coming in, which helps to instil confidence in the business. It's not the end of the world, we are going through a pandemic but we still have new accounts coming in. Even so, we have to look at measures to manage the cost internally to mitigate any form of risks. Therefore, I think from an employer point of view, giving them some updates about what is going on and what the management is doing to take care of our people is important."
The way you approach informing candidates of hiring freezes or hiring slowdowns could help you emerge even stronger after this crisis. Good luck!
---
---
RECOMMENDED FOR YOU